Exports of European solar thermal process heat technology are increasing
Brussels, 19 March 2013 – European experts presented the latest developments during a Technology Workshop on Solar Process Heat for industry, held on 15 March 2013 at the Renewable Energy House in Brussels and organised by the European Technology Platform on Renewable Heating and Cooling (RHC-Platform).

The workshop, organised by the Solar Thermal Technology Panel of the European Technology Platform on Renewable Heating and Cooling, was attended by around 60 participants from industry, research, industry associations, as well as from EU institutions. It presented the most recent developments and insights into collector technology, as well as solar thermal system integration for processes ranging from drying to pasteurisation or sterilisation. These were also illustrated with case studies from some of the sectors with the highest potential, such as beer brewing, food processing, and transport equipment cleaning.
The event confirmed the huge potential of this market segment. The IEA Solar Heating and Cooling Technology Roadmap states that, by 2050, 20% of the energy used for low temperature industrial heat (<120°) could be provided by solar process heat. "The IEA roadmap identifies the potential of solar industrial process heat worldwide by 2050 to be equivalent to that of solar water heating and solar space heating combined", says Werner Weiss, Chairman of Solar Heating and Cooling Programme of the International Energy Agency (IEA) and Board Member of the RHC-Platform
According to this expert, the significance of this application goes well beyond the scope of the targets set in the Renewable Energy Sources Directive. Besides contributing to the 2020 targets, exports of European solar thermal process heat technology are increasing, as it is used in the world biggest solar heating plants in operation (Saudi Arabia) or under construction (Chile), with 25 and 26 MWth of installed capacity respectively.
"Although Heating and Cooling represents 47% of the energy demand in Europe, the EU allocated less than 8% of the FP7 Energy research funds to this sector", says Gerhard Stryi-Hipp, President of the RHC-Platform, adding that: "The European Union and the Members States need to wake up to unlock the potential of Renewable Heating and Cooling and explore this cost-effective way to cut CO2 emissions"
Further information about this workshop and Renewable Heating and Cooling can be found at
www.rhc-platform.org.
Featured Product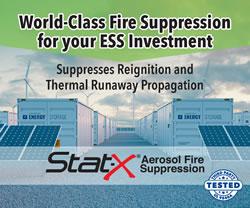 Stat-X® condensed aerosol fire suppression is a solution for energy storage systems (ESS) and battery energy storage systems (BESS) applications. Our Stat-X condensed aerosol fire extinguishing product was tested for efficacy in suppressing li-ion battery fires. It was found that the product successfully extinguished single and double cell battery fires. This testing was conducted in parallel with a large battery fire testing program on behalf of a large energy storage company.