Viridis Africa 2013, 15 & 16 October, Killarney Country Club, Johannesburg
This October 15 & 16 will mark the third year Viridis Africa is to be held. It will be bigger, better, more defined and refined in achieving its stated goal of bringing together both investors and entrepreneurs from Africa to meet with their counterparts from around the world in order to pursue the objective of setting up clean technologies businesses in the continent holding commercial promise.

For African entrepreneurs and their businesses, the Johannesburg held event will prove most beneficial in a much as it will allow them to meet with potential global partners, both in technology and finance so as to evaluate and execute projects in renewable energy, provision of potable water, solid waste recycling, effluent treatment and other projects that aside of their commercial merits would have even greater socio-economic benefits and impact on the people and environment of the continent for years to come.
Much of the event this year would concentrate on adaptive and appropriate solutions for particular instances.
Some projects in the past, although technologically sound, could not be justified commercially, nor technically, as support infrastructure – human resource and even reliable energy supply - could not be sustained.
As Africa is now becoming the focus of the developed nations as far as inward investment into the continent, so as to "fire up" economic development, there is much anticipation that infrastructural development will ensue.
Thus, the provision of energy, water (for drinking, agricultural and industrial use) as well as other objectives such as road infrastructure and telecommunication will become a priority.
Therefore in Africa the concept of "clean technology" is more about the ability to answer to the said needs in a more independent manner, than what is currently possible - that is deploying energy generating capacity that is not reliant on massive infrastructural setup, but rather small scale and scalable solutions adapted to remote and rural regions within a country.
Similarly innovative solutions regarding water treatment and purification coupled with that of industrial effluents can also be deployed on the basis of small scale and scalable range of solutions, thereby commercially justified as per community/regions' needs.
In summation, Viridis Africa showcasing Clean Technologies initiatives and innovative solutions is about appropriate technologies which balance commercial promise with cost affordability to users.
For more information, visit www.viridisafrica.com or contact the organiser, Spindle Communications on suza.adam@spindlecommunications.com
More information:
On the 15th & 16th October 2013 the third Clean Technology business and investment matchmaking conference for the African continent is to be held at the Killarney Country Club, Lower Houghton South Africa.
Called Viridis Africa, the event is dedicated to entrepreneurs and corporates who are seeking funding to introduce clean technology solutions and services.
Principals who would present their business opportunities at this event would have the audience of numerous local and foreign investors, stratified according to their interest and investment criteria.
Investors would include venture capital, private equity, project and corporate finance outfits and project developers dedicated to the cleantech sector. They would also include North American, European funding agencies, major Asian industrial conglomerates, technology specific investment funds and major companies who seek strategic alliance and acquisitions.
Entrepreneurs from all over Africa are invited to submit a business plan for inclusion in the program.
Interested parties can mail their cleantech proposals to suza@viridisafrica.com
Featured Product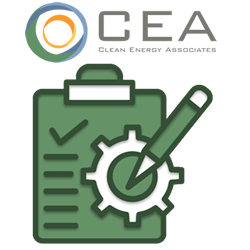 Clean Energy Associates provides a complete quality assurance solution that covers the entire product lifecycle of PV modules, storage systems, and every Balance of Sy stem (BOS) component. CEA's experienced on-the-ground and international team of quality control engineers and account managers offer an unparalleled quality assurance presence that can protect solar and storage investments and ensure future energy-producing viability for the life of the product.