Discussions at the Finance Forum will focus on issues such as geothermal project finance in the United States and abroad, geothermal project risk, and a worldwide geothermal development update.
Washington, D.C. (March 25, 2013) – As one of East Africa's most promising geothermal markets, Kenya boasts more than 200 MW of installed capacity currently online with the goal to add nearly 5,000 MW by 2030. Now the Kenyan Ambassador to the United States has been tapped to speak at one of the world's largest gatherings of international geothermal and finance industry leaders. The Geothermal Energy Association today announced the addition of Ambassador Elkhana Odembo as a keynote speaker for the upcoming U.S. and International Geothermal Energy Finance Forum (#GEAFinance2013). Ambassador Odembo will join Rohit Khanna, program manager of the World Bank's Energy Sector Management Assistance Program, in delivering keynote remarks at the event, to be held on April 11 at the Marriott Marquis New York.

Odembo is a fitting addition to the event program, as East Africa, and Kenya specifically, plans to take advantage of its vast geothermal resources in the decades ahead. A May 2012 study by GEA found that Kenya possesses at least 7,000 MW of geothermal resource potential, with 14 geothermal sites already identified for development in the country. Planned development in Kenya alone is projected to result in an $18 billion capital investment in the sector by that same year.
Currently, only 16 percent of Kenyans have access to electricity, but the government plans to leverage the abundant geothermal resources beneath Kenyan's share of East Africa's Rift Valley to raise that number. Geothermal already delivers about 13 percent of Kenya's electricity, with the goal to increase that proportion to 30 percent by 2020.
GEA Executive Director Karl Gawell remarked: "Ambassador Odembo represents a country that is working in sync with organizations like the World Bank to fulfill its electricity needs with clean and renewable geothermal energy. We are excited to welcome him as a keynote speaker and look forward to his insights on how U.S. geothermal companies and the New York finance community can help to make electricity more accessible to the people of Kenya and East Africa."
Discussions at the Finance Forum will focus on issues such as geothermal project finance in the United States and abroad, geothermal project risk, and a worldwide geothermal development update. The global geothermal market is on the upswing in 2013, and recent reports show an estimated 18.6 GW of geothermal power currently in development across 70 countries, accounting for $100 billion in investment. Much of this development is being spearheaded by American companies, a number of whom will be represented at the event.
In addition to the United States and Kenya, a number of leading geothermal markets will also be represented at the Finance Forum, including Angola, Australia, Canada, Japan, Mexico, St. Kitts and Nevis, Rwanda and Uganda.
As the U.S. and nations around the world look to replace fossil fuels to minimize the threat of global warming, geothermal power will grow in its value and importance in the years ahead. Geothermal can provide both firm and flexible power. It can bring the reliability of 24/7 baseload power or complement other energy technologies by firming up more intermittent power generation. It can also provide power for small co-production projects to large utility scale power plants.
For a complete schedule or to register for the International Geothermal Energy Finance Forum, please visit http://geo-energy.org/events/International_GE_Finance_Forum_Apr_11_2013.aspx.
For sponsorship opportunities, please contact Kathy Kent, 202 454 5263, kathy@geo-energy.org; to request press credentials, please contact Shawna Seldon, The Rosen Group, 917 971 7852 or shawna@rosengrouppr.com.
Join the conversation on Twitter with #GEAFinance2013.
About the Geothermal Energy Association:
The Geothermal Energy Association (GEA) is a trade association comprised of U.S. companies who support the expanded use of geothermal energy and are developing geothermal Resources worldwide for electrical power generation and direct-heat uses. GEA advocates for public policies that will promote the development and utilization of geothermal Resources, provides a forum for the industry to discuss issues and problems, encourages research and development to improve geothermal technologies, presents industry views to governmental organizations, provides assistance for the export of geothermal goods and services, compiles statistical data about the geothermal industry, and conducts education and outreach projects. For more information, please visit http://www.geo-energy.org/. Check out GEA's YouTube Channel. Follow GEA on Twitter. Become a fan on Facebook.
Featured Product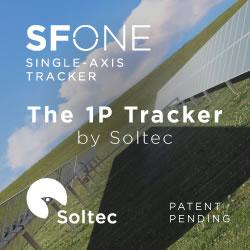 SFOne is the 1P single-axis tracker by Soltec. This tracker combines the mechanical simplicity with the extraordinary expertise of Soltec for more than 18 years. Specially designed for larger 72 an 78 cell modules, this tracker is self-powered thanks to its dedicated module, which results into a lower cost-operational power supply. The SFOne has a 5% less piles than standard competitor, what reduces a 75% the labor time.