Bosch currently holds a 90.7% stake in aleo solar.
Oldenburg, Prenzlau, 22 March 2013. aleo solar AG today was informed by its majority shareholder Robert Bosch GmbH that Bosch intends to withdraw from the solar energy market and therefore will be disposing of its stake in aleo solar AG. Bosch currently holds a 90.7% stake in aleo solar. Independently of this sale, Robert Bosch GmbH has assured aleo solar AG of financing until the end of March 2014.

York zu Putlitz, CEO and CFO at aleo solar AG: "Bosch is withdrawing from the crystalline photovoltaics business since it has been unable to achieve competitiveness here. Robert Bosch therefore plans to sell its holding in aleo solar AG. Irrespective of the search for a buyer, aleo solar AG has already taken action: We have closed our factory in Spain, commenced the liquidation of our joint venture in China and have disposed of our shares in Bosch CISTech. We are now examining further activities for improving our earnings. Our strengths lie in our sales operations and our products: Our new high-efficiency modules offer our customers an attractive option. And our dealer network of 2,100 installer firms gives us good access to the market. That said, we expect another difficult year in 2013: The general political environment has deteriorated in several of our core markets and we continue to suffer from overcapacities and pricing pressure." aleo solar will therefore wait until later in the year before making a more detailed forecast.
Publication of the results for the 2012 financial year from aleo solar AG has been postponed until 28 March 2013.
For further details of the sale planned by Robert Bosch GmbH, please visit the websites: www.bosch-presse.de, www.bosch.com
The Company
aleo solar AG produces and distributes premium solar modules and systems for the international photovoltaic market. Since 2009, the Bosch Group has owned a majority of the company (DE000A0JM634), which was originally founded in 2001 and has been listed on the stock exchange since 2006. The premium manufacturer currently has 903 employees and is represented in the key photovoltaic markets all over the world. The aleo solar group has an annual production capacity of 280 megawatts at its plant in Prenzlau, Germany. The company generated a turnover of € 279.9 million in 2012.
Featured Product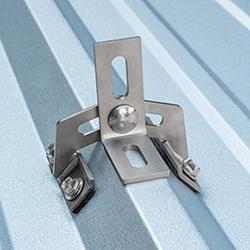 Error-Proof Compression: The QB2 doesn't leave any room for user error when it comes to Microflashing® compression. Once the Dual Drive Shoulder Screw is secured, the Microflashing® is compressed. Only 3 Components: The QB2 is comprised of Microflashing®, an L-foot and a Dual Drive Shoulder Screw. No more Nuts needed to tighten and secure the L-foot! Not only does this simplify the installation process, it also cuts down the installation time.