Maintenance of Trojan's deep-cycle flooded batteries is now faster, easier and safer.
SANTA FE SPRINGS, Calif., March 20, 2013 -- Trojan Battery Co., the world's

leading manufacturer of deep-cycle batteries, has launched a single-point
battery watering system for its line of flooded batteries for renewable
energy and backup power applications. The new watering system makes
maintenance of Trojan's deep-cycle flooded batteries faster, easier and
safer.
Trojan's single-point watering kit is designed to take the guess work and
mess out of properly watering flooded batteries. The flexible tube routing
allows the watering system to work with various battery bank sizes and
configurations. It also features an automatic valve shut-off to control the
electrolyte level within each cell which prevents overwatering. In
addition, the kit enables users to fill their deep-cycle batteries without
having to remove the vent covers, an important safety feature which reduces
the chance for contact with the battery's electrolyte.
"Proper maintenance and periodic watering are important factors in
maximizing the performance and life of Trojan deep-cycle, flooded
batteries," said Bryan Godber, senior vice president for renewable energy at
Trojan Battery. "With Trojan's new single-point watering kit, precise
battery watering is made easy and can fill a set of batteries in 30 seconds,
saving valuable time and money."
The single-point watering kit comes in three configurations to fit 12V, 24V
and 48V battery models. The kits are designed for single string
installations with Trojan Premium, Industrial and Signature lines of flooded
batteries. For systems with multiple strings in parallel, additional kits
can be added at the required system voltage.
About Trojan Battery Company
Trojan Battery Company is the world's leading manufacturer of deep-cycle
batteries, offering a complete portfolio of technologically-advanced
deep-cycle flooded, AGM and gel batteries that provide maximum long-lasting
performance to meet the requirements of today's advancing renewable energy
systems. Trojan Battery Company, founded in 1925, is ISO 9001:2008 certified
with U.S.-based operations in California and Georgia. For more information,
visit www.trojanbatteryRE.com
Featured Product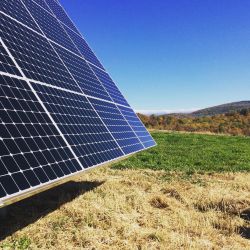 Designed and manufactured in the U.S., the AllEarth Solar Tracker is a complete grid-tied, dual-axis solar electric system that produces up to 45% more electricity than fixed systems. The tracker uses GPS and wireless technology to follow the sun throughout the day for optimal energy production. It has an industry-leading 10 year warranty and 120 mph wind rating, superior snow shedding, and automatic high wind protection. Its simple, durable design and complete system pallet simplifies costly procurement and installation time. Contact us about becoming a dealer partner or purchasing an AllEarth Solar Tracker.