The Colorado Cleantech Industry Association highlights companies utilizing both traditional and new energy for maximum results
DENVER ó March 26, 2013 ó Today, the Colorado Cleantech Industry Association (CCIA) begins efforts to highlight companies that are bridging the gap between traditional and new energy to support the creation of a stronger, cleaner and more efficient energy industry.

"In the past, there has been this perception of competition between traditional energy and cleantech. It doesn't have to be one or the other," said Chris Shapard, executive director of CCIA. "I believe that clean technologies working in partnership with traditional energy sources will push innovation in both sectors, and that will benefit consumers and industry advancement across the board."
Novinda, a company dedicated to reducing the harmful effects of coal-fired power plant emissions, is one example of how CCIA can connect traditional energy to clean technology opportunities. Novinda's product technology helps the coal-fired power plants reduce their mercury emissions.
"Our goal is to support the energy and power generation industries with advanced technologies that enable cleaner environmental operations, without major disruptions to operations or economics," said Ed Williams, CEO of Novinda. "CCIA has been instrumental to integrating us into the cleantech community and making the connections with some of our first large prospective energy clients.
Novinda provides innovative products to coal-fired power generation plants to facilitate a lower environmental impact. Novinda's first product, Amended Silicates, is a reagent that removes mercury with chemical reactions rather than through absorption technologies. Novinda joined the Colorado Cleantech Industry Association in 2011 and plans to increase its offering of products that can improve air quality around the world.
Throughout 2013, CCIA will continue to focus its efforts on bridging the gap between traditional energy and cleantech innovation. Through programming intended for energy companies of all sizes, networking events and legislative activities, CCIA seeks to promote Colorado's cleantech ecosystem and connect companies to cleaner solutions, prospective customers and educational opportunities. For membership information, please visit http://www.coloradocleantech.com/benefits.html.
Other CCIA member companies working to bridge the gap between traditional and new energy include Dingo, Vessels Coal Gas, ION Engineering, Clean Energy Fuels, Luca Technologies, and Neumann Systems.
About CCIA
The Colorado Cleantech Industry Association represents the interests of the state's advanced energy companies and innovative energy consumers. Its mission is to further establish Colorado as a world leader in advanced energy use and production by providing representation and advocacy, a unified voice, relevant programming, and capacity development. For more information, visit http://www.coloradocleantech.com.
About Novinda
Novinda was formed in 2009 as a spin out of CH2M HILL to commercialize environmental technologies for the power utility industry. In 2011, Novinda introduced its first product - Amended Silicates a high performance, economically attractive, mercury control product for coal-fired power plants. In 2012, Amended Silicates was named Product of the Year by Environmental Protection Magazine, in the Air Quality and Climate category. For more information visit www.novinda.com.
###
Featured Product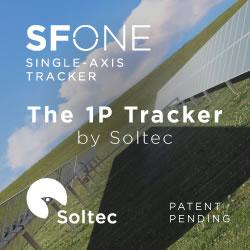 SFOne is the 1P single-axis tracker by Soltec. This tracker combines the mechanical simplicity with the extraordinary expertise of Soltec for more than 18 years. Specially designed for larger 72 an 78 cell modules, this tracker is self-powered thanks to its dedicated module, which results into a lower cost-operational power supply. The SFOne has a 5% less piles than standard competitor, what reduces a 75% the labor time.