Daetwyler Clean Energy (DCE) announces the appointment of David Nurse to the position of West Coast Sales Manager.
Huntersville, NC, March 26, 2013: Daetwyler Clean Energy (DCE) announces the appointment of David Nurse to the position of West Coast Sales Manager.

"David is a wonderful addition to the DCE Team." stated Bill Taylor, President, Daetwyler Clean Energy. "His background includes senior management and business development positions in the contracting and energy sectors in both the U.S. and European Union. And, his experience with the development and implementation of a wide range of solar power, wind power and distributed energy enables him to assist customers in the selection, design and implementation of their solar installations."
"In today's environment, customers need to see value and solutions that fits their needs." stated David Nurse, West Coast Sales Manager. "Daetwyler Clean Energy comes from a precision manufacturing back ground that shows in every aspect of their products, delivering state of the art solar mounting solutions that add value, cost savings and functionality for its customers. I look forward to sharing Daetwyler Clean Energy's unique capabilities with customers in the Western United States"
Prior to joining Daetwyler Clean Energy, David worked at One Sun Inc. in California and IRC Solar Systems, a solar integrator in New England. His background includes LEED implementation and carbon reduction engineering for Baseline Sustainability LLC, doing business in the U.S., EU, and China. David has been an early supporter of sustainability and renewable energy, through his membership on the U.S. Green Building Council (USGBC), and participation on environmental committees in several states. He has supported the construction industry as a board member and past President of Associated Builders & Contractors, Inc. David's career education includes USGBC studies in LEED AP construction; renewable energy design, and remodel energy certification. He attended the Wentworth Institute of Technology, with a degree in Thermodynamics.
Daetwyler Clean Energy is known throughout the renewable energy market as a premier solar racking manufacturer. Their experienced engineering and global fabrication facilities provide economical solar racking hardware direct to installers and project developers for rooftop (flat and pitched), ground mount, and specialty systems.
For more information on Daetwyler Clean Energy's solar racking solutions, please visit their website www.daetwylerce.com or contact David Nurse at 207-242-3365; e-mail: dnurse@daetwylerce.com
Featured Product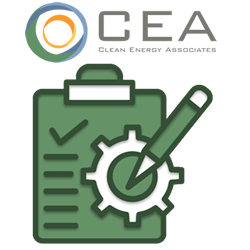 Clean Energy Associates provides a complete quality assurance solution that covers the entire product lifecycle of PV modules, storage systems, and every Balance of Sy stem (BOS) component. CEA's experienced on-the-ground and international team of quality control engineers and account managers offer an unparalleled quality assurance presence that can protect solar and storage investments and ensure future energy-producing viability for the life of the product.