Solar Frontier to start up plant in Kiyotakecho, Miyazaki, Japan, in July
Tokyo, March 27, 2013 – Solar Frontier announced today that it will restart the manufacturing of solar modules at its Miyazaki No.2 Plant in Kiyotakecho, Miyazaki, Japan on July 1, 2013. Production at the 60 MW nameplate capacity plant had been temporarily suspended since the end of 2012. Pending the final decision of product models to be manufactured, Solar Frontier is planning to make minor equipment modifications to enable the manufacture of new products that will be sold in Japan.

Miyazaki No.2 Plant, which opened in 2009, has provided Solar Frontier with know-how that forms the basis for the high-efficiency design achieved at the Kunitomi Plant. Since the end of 2012, Solar Frontier concentrated its manufacturing at the Kunitomi Plant, which boasts a nameplate production capacity of 900 MW, while the No.2 Plant was utilized for equipment testing.
Solar Frontier is Japan's only specialist solar module manufacturer. The Kunitomi Plant, which achieves quality befitting the label "Made in Japan," is Solar Frontier's main center for developing and manufacturing its CIS thin-film modules, which combine reliability and performance. Solar Frontier also provides customers with "one stop" solar energy systems, which deliver even higher value.
About Solar Frontier
Solar Frontier K.K., a 100% subsidiary of Showa Shell Sekiyu K.K. (TYO:5002) ("Solar Frontier"), has a mission to create the most economical, ecological solar energy solutions on Earth. Building on a legacy of work in solar energy since the 1970s, Solar Frontier today develops and manufactures CIS (denoting copper, indium, selenium) thin-film solar modules for customers in all sectors around the world. Solar Frontier's gigawatt-scale production facilities in Miyazaki, Japan, integrate compelling economical and ecological advantages into every module: from lower energy requirements in manufacturing to the higher overall output (kWh) of CIS in real operating conditions. Solar Frontier is headquartered in Tokyo, with offices in Europe, the U.S.A., and the Middle East. Visit www.solar-frontier.com for more information.
Featured Product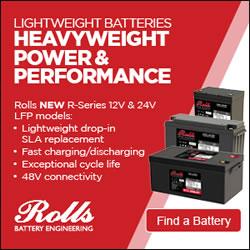 Designed for true drop-in replacement, Rolls new R-Series 12V & 24V LFP lithium models offer a maintenance-free lightweight flooded and SLA alternative in four popular BCI case sizes with fast charge/discharge capability. Rolls custom built-in BMS provides all necessary operating protections for safe operation and seamless integration for deep cycle replacement in 12V, 24V or 48V systems.