Aruba purchased four self-powered, pollution free streetcars from TIG/m Modern Street Railways, manufacturers of the world's greenest streetcars for inner-city public transportation, toward its goal of transitioning to 100% renewable energy.
Mr. Oslin B. Sevinger, Minister of Integration, Infrastructure and Environment of Aruba, recently accepted the delivery of the Island's second streetcar and announced the purchase of two additional self-powered, pollution free streetcars from TIG/m Modern Street Railways, manufacturers of the world's greenest streetcars for inner-city public transportation.

"TIG/m represents the best Los Angeles and America has to offer: they're a homegrown small business that is innovative, forward-looking, and green," said Los Angeles Mayor Antonio Villaraigosa. "I am proud that my office has been able to help TIG/m through the Minority Business Development Agency (MBDA) Business Center, setting a perfect example that Los Angeles companies can export their innovative ideas around the world."
During 2012, MBDA's Business Specialists helped TIG/m secure several contracts valued at over $3 million from the Government of Aruba. This created and retained jobs for the City of Los Angeles, and allows the firm to double the size of its manufacturing facility.
Minister Sevinger met with Mayor Villaraigosa and visited the TIG/m manufacturing facility along with the Minister's Chief of Staff Fredric Every, and Advisor to the Government of Aruba Emile Herde.
The island nation of Aruba, under the leadership of the Prime Minister, Mr. Mike Eman, and the Carbon War Room (CWR), the global entrepreneur initiative founded by Sir Richard Branson and a group of entrepreneurs, announced a partnership to transition the island to 100% renewable energy during the UN's Rio+20 talks. The partnership would make Aruba the world's first sustainable energy economy, with the Carbon War Room and New America Foundation working to both devise and implement an integrated strategy for the economy-wide transition - a world first, if successful.
Toward the goal of complete sustainability, the capitol, Oranjestad, has implemented, with TIG/m Modern Street Railways, the world's most advanced inner-city streetcar system that is operated by using green technology. The first streetcar was delivered and has been operational on the downtown main thoroughfare since December 2012.
Aruba is a major tourist destination in the Caribbean for gaming and for major cruise lines such as Regent Seven Seas Cruises, Princess Cruises, Holland America Line, Royal Caribbean International, Celebrity Cruises, P&O Cruises, Seabourn Cruises, and Paul Gauguin Cruises.
About TIG/m Modern Street Railways
Modern Street Railways www.tig-m.com designs and manufactures pollution free, self-powered streetcars. These custom state-of-the-art high-capacity hybrid/electric streetcars are designed for inner city transportation. The streetcars are powered by a uniquely engineered and integrated self-contained power source that combines lithium batteries, regenerative braking, and a hydrogen fuel cell, requiring no overhead wire and generating zero pollutants.
Featured Product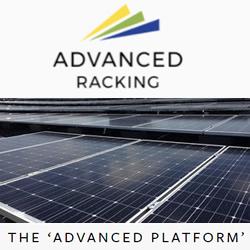 The 'Advanced Platform' simplifies the installation process by using universal mounting hardware that works perfectly across all roof types. Smart roof connection kits then connect to the specific roof's surface. The Advanced Platform is versatile: Our common design can be your single solution for all roof types.