Taps industry veterans to drive growth in Northeast, Southeast, California and the Caribbean
Tucson, Ariz., March 28, 2013: SOLON Corporation, one of the largest providers of turnkey solar power plant services in the United States, announced today it has expanded across several growing solar markets in North America. SOLON's team is focused on developing, designing, constructing, financing and servicing solar projects that meet the unique needs of utilities, businesses and public institutions.

With over 65MW of systems installed in Arizona, and nearly 100MW installed in the United States, SOLON is leveraging its success and experience in the Southwest, and aggressively growing its business in California, the Northeast, the Southeast and the Caribbean, as well as in Federal sector opportunities across the country.
Characterized by their extensive expertise in the energy industry and in delivering integrated energy solutions, SOLON's expanded team brings strong proficiencies in energy performance contracting, demand response, building energy retrofits, green building design, waste-to-energy solutions and various co-generation technologies in addition to designing, developing, financing, constructing and servicing photovoltaic systems.
"We have gathered an esteemed group of energy industry and business veterans with the right expertise to meet the growing needs of customers as markets and policies evolve," said Jared Schoch, Vice President and General Manager of Power Plants at SOLON. "With a local presence and regional support teams now established in current and near future grid parity markets, we are ready to provide freedom of choice to our customers with smart energy solutions."
Over the past six months, SOLON has added 15 solar and energy industry veterans to its Power Plants group, highlighted by the additions of Carl Hurst, Senior Director of Sales and Business Development, and Michael Barsch, Senior Director of Engineering, Procurement and Construction.
Hurst brings 30 years of utility and integrated energy experience. At Johnson Controls he led performance contracting and energy and technology services teams. Hurst also initiated and executed energy efficiency and sustainability projects at Siemens for large commercial, industrial and public sector customers. He began his career with Public Service Company of Colorado (now Xcel Energy), where he served commercial and industrial customers.
Barsch brings over 20 years of general construction experience in the solar and home building industries, which represents more than 300MW of solar plants constructed. Prior to joining SOLON, Barsch ran SunPower's European EPC operation for utility-scale power plants.
In addition to Hurst and Barsch, SOLON has added the following regional leaders to manage and grow their solar and smart energy solutions business.
Sean Lyle: Federal Sector
Patrick Castro: West
Ron Puryear: Southwest, Utility
Luke Alm: Southwest, Distributed Generation
Tony Pawlik: Northeast
Heath McLaughlin: Southeast
Oscar Rangel: Caribbean
To learn more about SOLON's expansion and read full bios on their team, visit http://www.solon.com/us.
About SOLON Corporation:
SOLON Corporation (www.SOLON.com) is a leading national provider of utility-scale and large commercial photovoltaic (PV) system solutions to the North American market. SOLON delivers complete and cost-effective turnkey PV systems to its partners with a streamlined approach from project development, design and construction to financing and operation. With corporate offices in Tucson and Phoenix, AZ, and regional hubs in California, Florida, New Jersey and Puerto Rico, SOLON is driven by a passion for innovation and a commitment to providing superior solar solutions with unrivalled quality and reliability. Founded in 2007, SOLON Corporation is a subsidiary of the SOLON Group, a leading international provider of solar solutions for residential, commercial and utility-scale applications. The SOLON Group, one of oldest pure play solar companies in operation, was established in 1996 and operates subsidiaries in Germany, Italy, Australia, India and the U.S. with more than 500 employees worldwide. For more information, visit http://www.SOLON.com.
Featured Product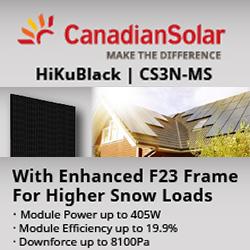 Aesthetic appearance for residential systems: With black backsheet & black frame, Power range 380 ~ 405 W, Low power loss in cell connection. Enhanced reliability: · Low temperature coefficient (Pmax): -0.34 % / °C, LID LeTID less than 2.0%, Lower hot spot temperature, Better shading tolerance.