Company Expands Operations to Provide Best in Class Service and Support for Solar Sites Utilizing Satcon Inverters in the Western US
SAN FRANCISCO--Trylon TSF Inc., a leading service provider for the telecommunication and energy transmission industry, announced today that it has expanded its solar services organization. Trylon has been authorized by the Trustee overseeing the liquidation of Satcon Technology Corporation and its affiliates to provide ongoing technical field services and support to hundreds of Satcon customers owning thousands of inverters throughout North America, pending a sale of Satcon's assets by the Trustee. This strategic expansion of Trylon's Solarshield services network will enhance Trylon's ability to deliver the highest levels of service and support to owners and operators of commercial and utility scale solar power plants across North America.

"Trylon was the first Satcon Certified Service Provider in North America, and with over 150 megawatts of Satcon inverters currently under Trylon service programs, holds the most advanced technological knowledge base on Satcon products," said Paul Royal, Chief Executive Officer of Trylon TSF Inc. "Solar plant owners and operators with Satcon inverters now have access to the industry's most trained and trusted service provider with Trylon to support their solar plants and investments."
The company also announced the addition of Kevin Smart to its management team. Kevin comes to Trylon from Satcon, where he held key senior management roles including Vice President of Global Field Services. In his new position with Trylon, Kevin will lead the development, execution and day to day operations of the Solarshield business unit.
"With Trylon Solarshield, we have assembled a team of Satcon experts who between them have over 45 years of combined experience with field installations and support," continued Royal. "The specialized knowledge within our field services organization, combined with our ability to purchase material from the Satcon Trustee and our existing logistics network, will ensure that Trylon delivers superior service to the Satcon owners and operators during this period."
Trylon is a best in class product and service provider to the Solar, Wind Energy and Telecommunications industries. For the past 80 years Trylon has delivered innovation and value to its customers in more than 30 countries. With the expanded services offering, Trylon will now provide the Satcon customer base the same expert engineering, technical services, and essential project management capabilities that have made their customers successful for decades.
To learn more about the Solarshield Service Network, please visit www.trylon.com/whatwedo/solarshield.aspx or contact Trylon directly by phone at 1-855-261-6823 or via email at Solarshield@trylon.com for sales related inquiries or Services.Solarshield@trylon.com for service related inquiries.
About Trylon TSF Inc.
Trylon is a full service telecommunications system and Solar O&M provider with a global reputation for excellence and innovation in wireless implementation and management. Trylon specializes in developing, supplying and building wireless networks and in-building telecommunications systems and infrastructural support for energy production and transmission. With 80 years of experience, both in Canada and internationally, Trylon has a proven track record for delivering innovative solutions and complete end-to-end project management and execution to their clients.
Featured Product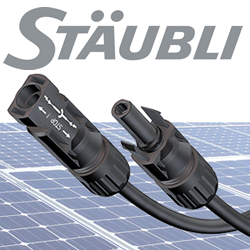 ​Stäubli Electrical Connectors are used on more than 300 GW, over 50% of the PV capacity worldwide. The MC4 family of UL and TUV listed products include connectors, in-line fuses, branch connectors, cable assembly and more.