BU Catalysts to describe catalyst optimization in ammonia operations ---Featured catalysts include AmoMax®, ReforMax®, and ShiftMax® ---Clariant products help deliver value in
Charlotte, March 28, 2013 – Clariant, a world leader in specialty chemicals, today announced that its Business Unit Catalysts will present a paper at the SynGas 2013 conference in Baton Rouge, La., which will take place April 8-10, 2013. Michelle Anderson, technical sales account manager for Clariant, will speak at 2:05 p.m. on April 9, at the Crowne Plaza Baton Rouge about "Maximizing Plant Performance Through a Better Understanding of the Basics in Catalytic Reactor Operation and Problem Avoidance."

Anderson will explain why a thorough understanding of basic principles in catalytic reactor chemistry and physics is important for maximum performance of an ammonia plant. She will also describe advanced catalytic technologies for ammonia production that enhance the use of natural resources and energy for greater cost efficiency and sustainability.
Featured Clariant products will include high performance ReforMax® reforming catalysts, AmoMax® for ammonia synthesis and ShiftMax® shift catalysts. These catalysts are designed to maximize the efficient use of raw materials and energy in the production of industrial chemicals such as ammonia, methanol, hydrogen and alternative fuels.
www.clariant.com
Clariant is a globally leading specialty chemicals company, based in Muttenz near Basel/Switzerland. On December 31, 2012 the company employed a total workforce of 21,202. In the financial year 2012, Clariant recorded sales of CHF 6.038 billion for its continuing businesses. Continuing businesses are comprised of the following seven business units: Additives, Catalysis & Energy, Functional Materials, Industrial & Consumer Specialties, Masterbatches, Oil & Mining Services and Pigments. Clariant's corporate strategy is based on four strategic pillars: profitability of the core businesses, research & development and innovation, dynamic growth in emerging markets, and repositioning of the portfolio.
Featured Product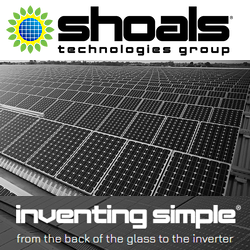 Inventing Simple® isn't just a slogan to us, it's a way of life. Using simple plug-and-play ideology, we revolutionized solar installations in 2003 with our Interconnect System™. Our harnessing system is now the gold standard EPC's use around the world. By using simple ideas, we are making solar energy a more affordable and clean power source for future generations.