The market demands smaller footprint solutions for 1.2KV to 1.8KV power semiconductors.
BIEL, Switzerland--IXYS Corporation (NASDAQ: IXYS), a leader in power semiconductors and IC technologies for energy efficient products used in power conversion and motor control applications, announced today the D2-Pak (TO-263) and D3-Pak (TO-268) packages with higher 'creepage' spacing which enables higher voltage power semiconductors to be used in these Surface Mount Devices (SMD).

"The market demands smaller footprint solutions for 1.2KV to 1.8KV power semiconductors. The main reason for this is the higher power demands which are realized by higher voltages instead of higher current. By using a higher voltage the conduction losses in copper wires are less for power control circuits; therefore, thinner copper conductors or traces on PCB circuits can be used. These SMDs improve energy efficiency, reduce cost, reduce size and reduce weight when used in power electronics," commented Mr. Jeroen van Zeeland, head of marketing at IXYS Germany.
SMDs are preferred for lower cost alternatives to modules and to other bulkier discrete components in integrated power designs. Until now there was no such solution for applications higher than 1.2KV. The new IXYS D2-Pak and D3-Pak designs now offer the standard footprint, but with compliance to the high voltage 'creepage' specifications.
For D3-Pak the creepage distance between the terminal to the copper of the backside is greater than or equal to 5.80 mm. The same value for the D2-Pak is greater than or equal to 4.70 mm. This enables the use of 1.2KV D3-Pak in pollution degree 2 industrial designs. In addition to industrial power control applications, these devices target other 1.2KV to 1.8KV power supply, UPS, renewable energy, motor drives and medical applications.
The following products are already available:
*CMA30E1600PZ (D2-PakHV, single SCR with 30A and 1600V)
*DMA10P1600PZ (D2-PakHV; phase-leg for diode bridges with 10A and 1600V)
*CMA50E1600TZ (D3-PakHV, single SCR with 50A and 1600V)
*DSP45-16TZ (D3-PakHV; phase-leg for diode bridges with 45A and 1600V)
*Standard delivery mode for D2-Pak is Tape & Reel and tube for D3-Pak (T&R on request)
More product information is available on the IXYS website, for example, http://ixapps.ixys.com/DataSheet/CMA30E1600PZ.pdf or by contacting your nearest IXYS sales office.
About IXYS Corporation
Since its founding, IXYS Corporation has been developing power semiconductors and mixed signal ICs to improve power conversion efficiency, generate solar and wind power and provide efficient motor control for industrial applications. IXYS and its subsidiary companies offer a diversified product base that addresses worldwide needs for power control in the growing cleantech industries, renewable energy markets, telecommunications, medical devices, transportation applications, flexible displays and RF power.
Featured Product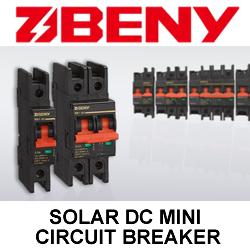 The BB1-63 modular miniature circuit-breakers can be used in solar DC circuits up to 1200 VDC (4-poles execution). Application in solar DC circuits, battery energy storage systems and UPS. Arc flash barrier design keeps solar equipment more safe and reliable. For DC circuit over-current protection.