Since 2008, Ambassador Energy [AE] has taught over 1000 contractors, including electricians, roofers and general contractors, the fundamentals of solar photovoltaics [PV] through their education arm, Ambassador Energy College. The contractor students not only learn the technology, but also how to sell solar PV to their residential and commercial clients.
Murrieta, CA March 31, 2013

Ambassador Energy's trainers, Catherine Kelso and Steve Fulgham, are both double NABCEP certified with NABCEP's PV Installer and PV Technical Sales certifications. AE's California C10 electrician, Kurt Sorensen, is also on hand for the lessons on electrical diagrams, permit packages and site logistics.
"The contractors who come here to train through our proprietary Ambassador Energy Agency Program get the very best of the best," said Kelly Smith, President of Ambassador Energy. "Not only do they learn the technical side from the best trainers in the business, but they get segments from some of our other staff, who specialize in sales, branding, marketing, quoting, presenting, rebates, incentives and client interfacing. It is very well-rounded solar PV training designed for the real world, giving the contractors the ability to immediately begin selling and installing solar. And, because the training really never ends in this dynamic industry, they leave Ambassador Energy training with us in the wings, ready to support them at any juncture. We even go on client visits with them if they need. We are all about their success."
In addition to the training courses for the AE Agency Program, Ambassador Energy College teaches a variety of other one- to five-day classes, including Entry Level PV Design and Installation, which qualifies students to take the NABCEP EL test, proctored at the end of the course. Other classes include Advanced Solar PV Design and Installation, Advanced PV Technical Sales, Advanced PV Installation, Solar for Electricians, Solar for Contractors, Solar PV 101.
About Ambassador Energy
Ambassador Energy [AE] has a three-pronged business model, which includes Ambassador Energy College Solar Training, the Ambassador Energy Agency Program and the installation arm, Ambassador Energy EPC. On staff are NABCEP Certified PV Installers, NABCEP Certified PV Technical Sales professionals [Fulgham/Kelso] and multiple NABCEP EL graduates. AE holds California licenses General Contractor B, C10 Electrician and C46 Renewable Energy. Ambassador Energy is IREC/ISPQ accredited. AE Agencies are nationwide. Ambassador Energy EPC installs PV systems throughout California and the US.
Featured Product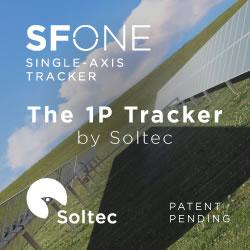 Under the slogan "engineered for greatness", the SF8 tracker aims to revolutionize the photovoltaic market with its new minimum 2x60 configuration and 4 to 6-strings. This tracker is elegantly designed while it reinforces its structure to perform in any terrain. In addition, the SF8 tracker increases the rigidity of its structure by 22% more than the previous generation of Soltec trackers, the SF7. The SF8 is specially designed for larger 72 and 78 cell modules, an increasing market trend.