The Italian company is expanding its US and international presence and diversifying into wind energy technology.
Building Energy, an Italian company involved in the production of renewable energy in Italy and numerous foreign markets, has signed a partnership agreement with Optimum Renewables for the development of a wind farm pipeline in Iowa.

Optimum Renewables, based in Des Moines (Iowa – USA), already has an established track record for the development and management of renewable energy power stations in the US.
The agreement provides for the development of wind farms in Iowa with a total capacity of around 50 MW. Specifically, this will include the construction of a series of medium-size farms (4-5 MW each) dispersed throughout the state in a manner structured to reach the greatest possible number of local communities.
Using its ground-level presence and in-depth knowledge of the American energy sector, Optimum Renewables will identify and select opportunities for the development of the wind farms and Building Energy will act as an overall sponsor of the activities. This will involve managing the entire project cycle from the preliminary stages of negotiating with financial providers to the eventual construction and maintenance of the farms, which will be wholly owned by Building Energy.
The vast US market is of key importance, and Iowa has a strategic role within it. In 2012, energy from wind farms exceeded a total capacity of 5,100 MW, or 24.5% of the state's total energy production. Additionally, the US government approved the extension into 2013 of the wind power production tax credit, an incentive program which has fostered solid growth in the sector over the last few years.
Fabrizio Zago, CEO of Building Energy, said: "The partnership with Optimum Renewables builds on the agreements we signed with leading US energy providers in 2012, and will enable Building Energy to strengthen its presence in the US market, where the existing program of incentives for the development of renewable sources has just been reconfirmed."
"This project will be the first significant step towards diversification into wind energy taken by our company, which so far has mainly concentrated on photovoltaic technology both in Italy and abroad," Zago concluded.
Building Energy is an independent producer of energy from renewable sources. The company operates both abroad and in Italy, where it has used photovoltaic technology to reach a capacity of over 150 MW in power stations it has developed directly and indirectly.
Its development pipeline includes projects with a total capacity of around 800 MW in Italy, South Africa, the United States, the Dominican Republic, Serbia and Romania. In South Africa, Building Energy won the contract for the biggest photovoltaic project on the African continent - 81 MW in Kathu - in the first round of the REIPP, the South African government's incentive program for the production of renewable energy. The power station is currently under construction and is expected to be in operation by August 2014.
Featured Product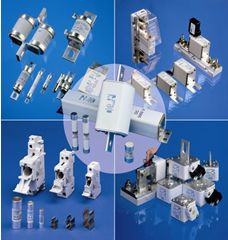 SIBA Fuses: your trusted source for all your circuit protection applications, from solar power to wind power. We are the world leaders in these applications and the most trusted name for your circuit protection needs. We have been working for over 70 years in semiconductor fuses, including ULTRA RAPID®, medium, and high voltage, standard European, miniatures, electronic fuses, and a wide range of DC rated fuses (24 VDC - 5000 VDC) for all types applications. We work with medium and high voltage fuses for protection of transformers, including submersibles, motors, medium and high voltage switchgear, compact substations, cable feeders, and high voltage capacitor circuits. New: Full line of PV UL Listed fuses and fuse holders. Contact us today for more information on our products and services.