Helical Robotics creates MP Series of Robotic Platforms allowing inspection and maintenance of wind tower blades and components. Magnetic adhesion system allows vertical climbing while Mecanum wheel system delivers best in class maneuverability.
OREGON, WI, April 02, 2013 -- Helical Robotics is advancing technology that will make inspection and maintenance of land and off-shore wind turbines faster and more cost effective. Use of HR-MP robotic platforms promise to improve safety and reduce liability and personnel costs. The HR-MP20, for example, weighs less than 40lbs, and has a lifting capacity of 20lbs. Its compact and versatile design allows operations to be conducted on a wide range of towers, and deployment takes less than one minute. Other offerings include the HR-MP5 and HR-MP100, with more sizes under development.

Currently, wind power operation and maintenance requires the use of large equipment or highly trained personnel. Wind blade inspection for example, is accomplished by an inspector who examines the massive turbine blades from the ground, about 100 meters (328') away, by using a high-power telescope, or by rope access technicians using equipment similar to that of a mountain climber. Helical Robotics plans to change that by using remote-controlled, robotic devices that can scale the wind tower.
"Every day, technology advances and changes the face of industry. These advancements drive the future of our world from better renewable energy to safer bridges and ships. Helical Robotics hopes to be part of this continuing evolution," says Bruce Schlee, President of Helical Robotics.
Schlee continued, "Technology advances such as this will be the primary factor that determines the success of Wind Power and other renewable energies. By reducing the cost of operations and maintenance, Helical Robotics mobile platforms will make wind energy more efficient and cost competitive."
The HR-MP20 was recently tested at a wind farm in Minnesota demonstrating its advantages over conventional methods including better wind and weather tolerance.
Beyond wind, Helical Robotics is currently working with partners to develop products aimed at the Oil and Gas industry, Infrastructure Construction, Ship Construction, and Power Transmission to name a few.
About Helical Robotics
Helical Robotics is committed to changing the face of industry by mitigating risk and increasing profitability through the use of robotic solutions. We create solutions in-house or through collaborative efforts with industry leaders, educational intuitions, and government agencies. Licensing opportunities are available.
Visit Helical Robotics on the web at www.helicalrobotics.com.
Featured Product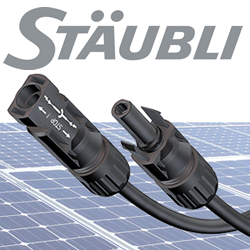 ​Stäubli Electrical Connectors are used on more than 300 GW, over 50% of the PV capacity worldwide. The MC4 family of UL and TUV listed products include connectors, in-line fuses, branch connectors, cable assembly and more.