HEMOS was able to receive intuitive responses and feedback for their innovative technology.
Hackensack, NJ – Leto Solar successfully held their world premiere of HEMOS Technology at this year's Solar Power Finance and Investment Summit in San Diego, California. Industry professionals were quick to approve and praise the engineering behind the innovative idea. Though the technology is complex, the simplistic design and implementation of HEMOS Technology in already existing practices made a promising impression on the participants of the Summit.

With high-level representation of various sectors in the solar industry, HEMOS was able to receive intuitive responses and feedback for their innovative technology. Top-tier OEMs, leasing companies, financial Institutions, EPCs, IPPs, and more all displayed a keen interest and expressed a desire to have further discussions on implementation. High-level discussions are ongoing over the next several weeks and Leto Solar hopes to have the technology out in the field within a few months. They all agreed that this technology would be largely beneficial, and could address a number of concerns in the solar industry as a whole.
With HEMOS Technology providing solutions to theft and safety, as well as new resources to widen the financial market, the Summit also highlighted a strong desire for module level performance monitoring.
Leto Solar is expediting the further development of the technology's ability to deliver extremely granular data to meet this need as soon as possible. With it every module will be able to provide data on every aspect of its own performance, including power outputs, voltages, amperages, and temperatures – which will be an important feature for fire prevention as well. HEMOS Technology will implement additional functionality and several new features in the coming months.
With more companies being made aware of its capabilities, HEMOS is building on the attention from the Summit. Leto Solar hopes to implement the technology in developing projects, and is looking forward to receiving more bids. The successful integration of HEMOS Technology will hopefully change the way the industry considers fire safety, theft, financing, and performance to become a product that is an even better fit for mass consumption by the public.
Featured Product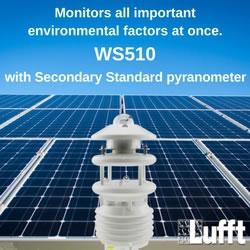 Professional weather sensors form the heart of large solar plants supporting their operation and performance. Lufft was the first manufacturer to combine several sensors in one housing, bringing the largest multiparameter weather sensor family with 19 members into being. Many of them are well-suited for solar site assessment and continuous monitoring. The most commonly used one is the WS600 delivering data on temperature, air pressure, wind, relative humidity and precipitation. Through its open protocol, it can easily be attached to radiation sensors e.g. from Kipp&Zonen. Other models have an integrated Silicon, Second Class or Secondary Standard radiation sensor.