Bill would level playing field for farmers to generate renewable energy
As it heads to a possible vote in the full Iowa Senate, farmers and clean energy advocates in Iowa are touting the benefits of a farm-focused wind energy bill passed in a rare unanimous and bipartisan vote by the Iowa Senate Agriculture Committee (eight Democrats and five Republicans).

The measure, Senate File 372, would require utilities to pay Iowa farmers the same rate for electricity that they pay themselves for wind from their own assets. It establishes a "feed-in tariff" for distributed wind generation on agricultural land, changing current policy so that Iowa farmers can receive income for wind energy that they supply back to the grid.
"These senators should be applauded for putting Iowans first," said Gregg Heide of the Iowa Farmers Union. "This is a common-sense measure that protects our rural heritage and maximizes our renewable energy economy at the same time. We hope their colleagues in the Legislature show the same commitment to Iowa's farmers."
Federal law requires utilities to connect small renewable generation facilities to the grid. Iowa, however, does not require utilities to offer feed-in tariffs. Currently, a mix of state and federal laws allows Iowa utilities to pay individuals a lower price for electricity than what they pay themselves for energy from their own wind farm assets. This financial disparity all but financially locks out many farmers who could otherwise participate in Iowa's robust renewable energy economy.
"This could be a win-win for Iowa – homegrown renewable energy that strengthens and diversifies our rural economy," said Ed Woolsey of the Iowa Renewable Energy Association (I-Renew).
Senate File 372 passed the Senate Agriculture Committee on March 7. The legislation is currently eligible for a floor vote by the Democrat-controlled Iowa Senate. If enacted into law, it would be the first legislation of its kind in the Midwest, and one of only a handful of similar laws nationally. Under the measure, Iowa farmers could ultimately generate up to a collective 60 megawatts annually.
Featured Product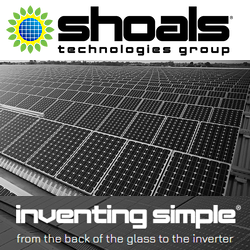 Inventing Simple® isn't just a slogan to us, it's a way of life. Using simple plug-and-play ideology, we revolutionized solar installations in 2003 with our Interconnect System™. Our harnessing system is now the gold standard EPC's use around the world. By using simple ideas, we are making solar energy a more affordable and clean power source for future generations.