"Numerous pilot projects around the world are developing and testing V2B technologies, most of them as part of larger microgrid and smart grid projects."
BOULDER, Colo.--With vehicle-to-building (V2B) technology – which makes the energy stored in plug-in electric vehicle (PEV) batteries available to commercial and residential buildings – vehicles can compete with both traditional local generation and stationary storage for offsetting demand charges or providing peak shaving services. V2B technology has been studied for the purpose of emergency backup power since the 1990s, and is gaining new attention as PEV sales climb and building managers and homeowners seek innovative ways to manage energy costs. According to a recent report from Navigant Research, nearly 200,000 PEVs equipped with V2B technology will be sold from 2012 through 2020.

"V2B technology can benefit both vehicle and building owners, by offsetting some of the cost of PEVs, by lowering the energy costs of the building, and by providing reliable emergency backup services," says John Gartner, research director with Navigant Research. "Numerous pilot projects around the world are developing and testing V2B technologies, most of them as part of larger microgrid and smart grid projects."
Although recent projects are becoming more ambitious with regards to the number of PEVs participating, they are still at the scale of integrating hundreds – not yet thousands – of vehicles, the study concludes. Automotive and building companies in Japan, for example, have responded to the widespread loss of grid power after the 2011 tsunami by developing V2B programs, mostly focusing on residential buildings.
The report, "Vehicle to Building Technologies", examines the market opportunity for V2B technologies targeted at demand charge avoidance, peak shaving, time-of-use pricing, and other utility energy pricing programs to reduce the cost of building operations and to provide emergency backup power. The study analyzes both the technology issues and government policy factors associated with the growth of V2B, as well as key barriers to adoption. Key market participants are profiled and forecasts are provided for V2B-enabled vehicles and service revenues through 2020. An Executive Summary of the report is available for free download on the Navigant Research website.
About Navigant Research
Navigant Research, the dedicated research arm of Navigant, provides market research and benchmarking services for rapidly changing and often highly regulated industries. In the energy sector, Navigant Research focuses on in-depth analysis and reporting about global clean technology markets. The team's research methodology combines supply-side industry analysis, end-user primary research and demand assessment, and deep examination of technology trends to provide a comprehensive view of the Smart Energy, Smart Utilities, Smart Transportation, Smart Industry, and Smart Buildings sectors. Additional information about Navigant Research can be found at www.navigantresearch.com.
About Navigant
Navigant (NYSE: NCI) is a specialized, global expert services firm dedicated to assisting clients in creating and protecting value in the face of critical business risks and opportunities. Through senior level engagement with clients, Navigant professionals combine technical expertise in Disputes and Investigations, Economics, Financial Advisory and Management Consulting, with business pragmatism in the highly regulated Construction, Energy, Financial Services and Healthcare industries to support clients in addressing their most critical business needs. More information about Navigant can be found at www.navigant.com.
Featured Product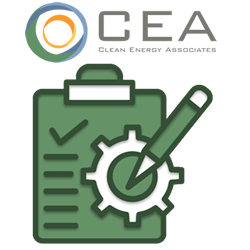 Clean Energy Associates provides a complete quality assurance solution that covers the entire product lifecycle of PV modules, storage systems, and every Balance of Sy stem (BOS) component. CEA's experienced on-the-ground and international team of quality control engineers and account managers offer an unparalleled quality assurance presence that can protect solar and storage investments and ensure future energy-producing viability for the life of the product.