The Haixi New Energy Industry Alliance was formally introduced on March 15. Both as its founding sponsors, Clenergy signsed a strategic cooperation agreement with Xiamen University's School of Energy Research, promoting new energy technologies in the region and the world.
The Haixi New Energy Industry Alliance was formally introduced on March 15 at the three-day Haixi International New Energy Industry Expo and Forum. Haixi is an economic zone on the western coast of the Taiwan Strait.

The founding sponsors of the alliance include Clenergy, the solar park solution provider, Xiamen University's School of Energy Research, and a number of financial institutions and clean energy companies.
The Haixi New Energy Industry Alliance provides a platform between mainland China and Taiwan to help bring together cutting-edge technologies, capital and market resources for the new energy industry. The Alliance serves its members to increase their competiveness and to promote the development of the industry in the region.
Li Ning, the president of the School of Energy Research at Xiamen University, delivered a speech at the formal announcement of the Alliance. Mr. Li said the Alliance will sign cooperation agreements with Clenergy and other founding sponsors. "As members contribute their strengths, the Alliance will become a true melting pot with a vibrant exchange of research, industry and finance for the new energy industry in Haixi," said Mr. Li.
Since Clenergy's establishment in 2007, "making renewable energy accessible and affordable" has been the company's mission statement. The strategic partnership between Clenergy and the School of Energy Research in conjunction with the advantages of the Alliance will benefit Clenergy's operations in Haixi and across the globe.
About Clenergy
Clenergy International is a leading Sino-Australian joint venture in the solar PV industry, with its headquarters in Xiamen, China, and branch offices in Australia, Germany, Japan, the United Kingdom and the United States. Clenergy provides high quality, versatile solar PV mounting products and solutions for commercial, residential and utility-scale customers. Its inverters and power electronic equipment are supplied with full technical and service support. Clenergy is an ISO 9001 accredited company and all of its products comply with international standards. Clenergy's rapid growth and strong international reputation is the result of its focus on quality, innovation and service. Clenergy maintains long-term strategic partnerships with leading companies in the solar PV industry. Clenergy and its partners provide Clenergy products and solutions in more than 19 countries around the world. For more information, please visit http://www.clenergy.com/
Featured Product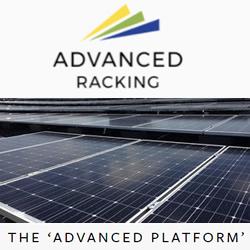 The 'Advanced Platform' simplifies the installation process by using universal mounting hardware that works perfectly across all roof types. Smart roof connection kits then connect to the specific roof's surface. The Advanced Platform is versatile: Our common design can be your single solution for all roof types.