Launch of ongoing partner initiatives for US PV flat roof racking products include an installation speed guarantee, as well as PanelClaw bearing shipping costs and covering the cost of project engineering (PE) wind and seismic stamps.
North Andover, Massachusetts – April 8, 2013 – In a first for the solar mounting industry, PanelClaw has announced a new program that guarantees the time required to install its flat roof racking systems. Additionally, PanelClaw will cover the costs of shipping as well as the required Professional Engineering (PE) wind and seismic project stamps for all of its flat roof products in the U.S. A part of a new series of initiatives, the program lowers upfront project costs to enable its partners to win more business.

"After speaking with our partners, and months of analysis, we developed this simple, yet ground-breaking program for our partners," said Constantino Nicolaou, CEO of PanelClaw North America. "In solar, bids are won and lost by just one cent per watt. With this program we are providing more certainty and less risk for developers and installers. We will continue to innovate the business of solar and reduce the total project costs in concrete and meaningful ways."
The new PanelClaw Partner Program includes:
Installation Rate Guarantee:
PanelClaw guarantees the time required to install its flat roof products for all first time users of the product. The guaranteed rate is established once layout is finalized and modules are selected.
Freight is Covered:
Freight cost for flat roof products is covered throughout the 48 contiguous United States, with shipping to the nearest ports for projects in Puerto Rico and Hawaii.
Wind and Seismic Professional Engineer (PE) Stamps:
PanelClaw provides turnkey PE wind and seismic stamp services for every purchased flat roof project in the United States. Once the system layout design is complete and customer approved, PanelClaw will provide a full technical documentation package and cover the cost of the PE stamp.
About PanelClaw Group
PanelClaw Group, Inc. and its operating subsidiaries, PanelClaw (North America), Inc. and PanelClaw Europe GmbH, deliver mounting and balance-of-system (BOS) solutions to accelerate the adoption of photovoltaics worldwide. A leader in ballasted flat-roof and ground-mount systems, PanelClaw has deployed nearly 300 MW across the U.S., Canada, the European Union, and India. For more information, please visit www.panelclaw.com.
Featured Product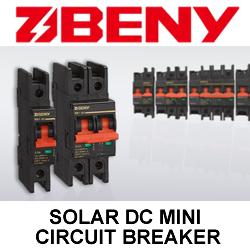 The BB1-63 modular miniature circuit-breakers can be used in solar DC circuits up to 1200 VDC (4-poles execution). Application in solar DC circuits, battery energy storage systems and UPS. Arc flash barrier design keeps solar equipment more safe and reliable. For DC circuit over-current protection.