Revolutionary Technology Could Significantly Reduce Costs and Eliminate Carbon Emissions by More than 63 Billion Pounds in the U.S. Market Alone
LAKELAND, Fla. and INDIANAPOLIS (April 9, 2013) – Emerald Technology Partners and EnerDel, Inc., today announced that the two companies recently signed a strategic memorandum-of-understanding (MOU) to further develop EnerDel's lithium-ion battery for commercialization with the WedWay™ Refrigeration Power System. Under the agreement, EnerDel will fully integrate its lithium-ion battery system as the power source for Emerald's full-scale refrigeration system. EnerDel has already provided a prototype system currently in service on a semi-trailer owned by Caspers Company, which owns fast-food restaurants throughout Florida. Field testing has been completed and the Wedway has been in service with Caspers Company since January of this year. Production is staged for a limited market in the central Florida area with four major companies. EnerDel will also provide t! he lithium-ion battery system for Emerald's production-scale manufacturing needs.

"Emerald Technology Partners has developed impressive technology that converts the kinetic energy captured from a semi-trailer's wheel rotation into power," stated EnerDel CEO David Roberts. "The power is stored for use via EnerDel's lithium-ion battery system, which serves as the power source to operate the refrigeration or freezer unit inside a semi-trailer while stationary. We're excited to collaborate with Emerald on this program, which we believe will have dramatic impact in reducing costs and lowering carbon emissions for perishable transport."
With a WedWay Refrigeration Power System, the cost to operate a refrigerated or "reefer" semi trailer for perishable transport is lowered by removing the dedicated fuel system. This reduces the overall weight of the semi-trailer and provides the opportunity for added cargo weight. The technology allows for power to be stored for use while the trailer is stationary for 12-24 hours. During an extended deliver the unit can also be plugged into shore power, running the system and charging the batteries simultaneously. Emerald Technology Partners estimates that the saving will reach into the tens of billions of dollars annually once the majority of owner/operator and corporate fleets employ the technology.
EnerDel's patent-pending lithium-ion battery system includes separate charge and load circuits, which manages the power demands for the WedWay Refrigeration Power System including the electrical load and energy sources for both the on-board generator and external power. EnerDel's system incorporates a 24-volt lithium-ion battery, which is available for other customers' low-voltage application needs.
About Emerald Technology Partners
Emerald Technology Partners, the visionary in the world of mobile refrigeration technology, is committed to developing products that will help lower the dependence of fossil fuels and the economical and environmental costs associated with using fuels. We are determined to find ways to reduce the carbon footprint of companies around the world thereby leaving a better earth for our future.
About EnerDel
EnerDel, Inc. is a privately-held company headquartered in Indianapolis, Ind. It manufactures advanced, lithium-ion batteries and energy storage systems for electric utility, transportation and industrial applications. The company's prismatic cell design and modular stacking architecture combine to provide customers with production-ready solutions that address their power and energy storage needs. EnerDel offers its customers the opportunity to receive a guaranteed residual value (GRV) on new energy storage or battery systems of up to 25 percent, which can be used toward the purchase of new or replacement systems. For additional information, visit www.EnerDel.com.
Featured Product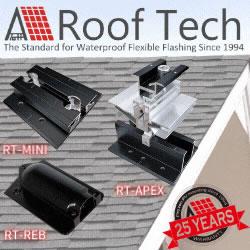 Now Roof Tech brings you the most innovative, watertight mounting systems ever developed for solar photovoltaic systems. Designed and manufactured exclusively for us by Japan's longtime leader in roofing technologies, Roof Tech products are 100% code-compliant and offer fast, simple installation and huge savings on shipping costs due to their compact, rail-less design. Learn more about our full line of versatile PV mounting solutions now available for residential installations. The next generation in rooftop solar mounting solutions."