The project, connected already, is on the roof of Dilmah Tea, a leading tea company headquartered in the city of Peliyagoda, in the Western Province. To date, it is the largest self-consumption solar PV installation on the island. It will generate about 150,000kWh/year.
8 April 2013. PROINSO, a global leader in the supply of PV solar products, has for the first time delivered PV supplies to Sri Lanka. These products went to a 102kWp self-consumption solar PV facility, which has been connected already. The project, comprising roof-mounted solar panels installed in the well-known tea company Dilmah Tea, based in Peliyagoda, a city in the west of the island, has become the largest self-consumption solar PV installation in the country.

It will generate around 150,000kWh solar power every year. In this project, PROINSO had the support of local company JLanka, one of the Qualified Installers in PROINSO's International Network.
PROINSO's entry in Sri Lanka's solar power sector is part of the multinational firm's strategy to strengthen its presence in emerging markets. The company had already delivered products in the area, to neighbouring countries such as India. In fact, PROINSO is one of the largest suppliers of PV products in this country, where there are more than 80 Qualified Installers.
The new solar panels of tea company Dilmah Tea (http://www.dilmahtea.com) reflect its bid for renewable energy, as well as its commitment to environment protection and the use of self-generated electricity, which should result in a sharp reduction in electricity bills.
Founded back in the 1950s, Dilmah Tea is well known around the world as a vertically integrated tea company, with its own tea gardens and its own packing and packaging facilities, caring for tea from the nursery right to customers' teacups.
Dilmah Tea is famous for its commitment to Corporate Social Responsibility. In fact, the company funds the MJF Charitable Foundation (www.mjffoundation.org) in Sri Lanka, which focuses on humanitarian assistance. Besides, in line with its commitment to the environment, it runs a sustainability initiative, Dilmah Conservation (www.dilmahconservation.org).
Sri Lanka moves towards renewable energy
The steep rise in oil prices in the recent past resulted in a heavy burden to Sri Lanka's economy, as the country does not have fossil fuel reserves. Therefore, the country has a remarkable growth potential in the renewable energy industry, particularly in the solar power market, the most popular source of renewable energy in terms of the amounts of energy produced.
In addition, the country is gradually raising awareness of the importance of using renewable sources to reduce pollution, fight climate change and supply clean energy.//
Featured Product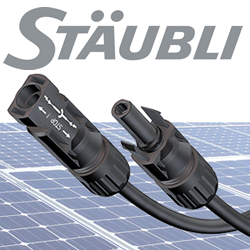 ​Stäubli Electrical Connectors are used on more than 300 GW, over 50% of the PV capacity worldwide. The MC4 family of UL and TUV listed products include connectors, in-line fuses, branch connectors, cable assembly and more.