Prokon AŞ will meet approximately %40 of its electricity consumption after the solar power plant is put into service.
Prokon AŞ has already become exemplary of several businessmen by deciding to invest on solar energy and is planning to continue solar energy investments. Steel Construction and Mechanical Manufacturing Factory at Ankara-Kazan has 17.000m2 roof and Prokon AŞ will install second 500 kWp power plant on this rooftop in the future. Prokon AŞ will meet approximately %40 of its electricity consumption after the solar power plant is put into service.

Murat Kögmen, General Director of Prokan AŞ stated following about the project: "Increasing electricity costs, producing electricity from clean energy, reducing carbon emission and experimenting on a small-size facility for our future solar investments are the key factors of taking solar power plant investment decision. Moreover we are aware of the fact that these factors are also legitimate for several businessmen and investors. In short, our power plant, first phase of which is completed, can serve as a reference for anybody. Also, we congratulate Else Enerji who has achieved a considerable success with their professional approach and their embracement of the project as if it their own project since from the beginning."
Mustafa Herdem, General Director of Else Enerji stated about the project that: "First of all, I thank Prokon AŞ for choosing us among more than twenty applicant firms and giving us the opportunity to complete one of the largest rooftop applications of Turkey. We have given due importance in all phases since we have signed the contract and truly, established a facility that can serve as a reference. We will keep establishing "genuine turn-key basis" projects to this sector. We will continue announcing projects that will be completed in the near future and the new projects. Our claim is to become the most preferred EPC firm of Turkey."
All phases of the project, from project approval process to the putting into service, was carried out by Else Enerji and following brands were used: Hanwha Q-Cells were chosen among six different brands. Six different solar panels from Germany and China was sent to PI-Berlin which is an independent laboratory in Berlin and STC, EL, PID tests were applied. Hanwha Q-Cells G.PRO G-2.245 was used in the project which has the best results. As an inverter, German SMA's STP20000TL-EE was used which is regarded as one of the best inverters of the world. German origin brands Mounting-Systems and Ejot were used as load-bearing construction and fixation system at the project. Multi-Contact brand solar cable and connectors which are the important components of the system were chosen.
Else Enerji which is a well-known EPC firm at solar energy sector, will continue medium and large scaled solar power plant applications that it has started with Prokon AŞ by establishing facilities in Sivas and Kayseri.
About Else Enerji:
Else Enerji is one of the leading solar EPC companies of Turkey who has the most experienced and wide technician & engineer team. Else Enerji headquarter is located in Ankara. Else Enerji team members have trained about solar PV applications and experienced with more than 3 MW PV installation in Turkey. Else Enerji serves "real turnkey solutions" about solar EPC business which covers project development, consultancy, engineering, planning, procurement and construction works.
Featured Product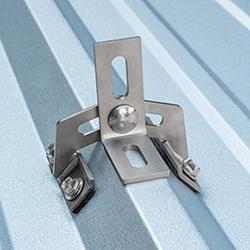 They have been changing the game for 10 years with their original Top Mount line for Asphalt Shingle roofs, and by now supplying one of the widest ranges of solar mounts in North America. From their patented products, to the custom production services they offer, QuickBOLT has been working with solar installers for nearly a decade to make solar installations easier than ever before.