Focuses exclusively on larger facilities and does not include energy generated by net-metered installations.
WASHINGTON, DC – For the first time, solar energy accounted for all new utility electricity generation capacity added to the U.S. grid last month, according to the Federal Energy Regulatory Commission's (FERC's) March 2013 "Energy Infrastructure Update." More than 44 megawatts (MW) of solar electric capacity was brought online from seven projects in California, Nevada, New Jersey, Hawaii, Arizona, and North Carolina. All other energy sources combined added no new generation.

Solar also had a strong showing in FERC's quarterly generation numbers, accounting for about 30 percent of all utility-scale new capacity. The report focuses exclusively on larger facilities and does not include energy generated by net-metered installations. Net-metered systems account for more than half of all U.S. solar electric capacity.
"This speaks to the extraordinary strides we have made in the past several years to bring down costs and ramp up deployment," said Rhone Resch, president and CEO of the Solar Energy Industries Association. "Since 2008, the amount of solar powering U.S. homes, businesses and military bases has grown by more than 600 percentófrom 1,100 megawatts to more than 7,700 megawatts today. As FERC's report suggests, and many analysts predict, solar will grow to be our nation's largest new source of energy over the next four years."
FERC's report supports other findings which show solar power to be one of the fastest growing energy sources in the U.S., powering homes, businesses and utility grids across the nation. The Solar Market Insight annual edition shows the U.S. installed 3,313 megawatts (MW) of solar photovoltaics (PV) in 2012, a record for the industry.
Some of this growth is attributed to the fact that the cost of a solar system has dropped by nearly 40 percent over the past two years, making solar more affordable than ever for utilities and consumers.
"In 2012, the U.S. brought more new solar capacity online than in the three prior years combined," Resch added. "These new numbers from FERC support our forecast that solar will continue a pattern of growth in 2013, adding 5.2 GW of solar electric capacity. This sustained growth is enabling the solar industry to create thousands of good jobs and to provide clean, affordable energy for more families, businesses, utilities, and the military than ever before."
Today, America's solar industry employs 119,000 workers throughout the country. That's a 13.2 percent growth over 2011's jobs numbers, making solar one of the fastest-growing job sectors in the nation.
More Resources:
- FERC's March 2013 Energy Infrastructure Update: www.ferc.gov/legal/staff-reports/2013/mar-energy-infrastructure.pdf
- 2013 SEIA Policy Priorities: http://www.seia.org/research-resources/2013-policy-priorities-federal-state
- U.S. Solar Market Insight: 2012 Year-in-Review: http://www.seia.org/research-resources/us-solar-market-insight
About SEIA®:
Established in 1974, the Solar Energy Industries Association® is the national trade association of the U.S. solar energy industry. Through advocacy and education, SEIA and its 1,000 member companies are building a strong solar industry to power America. As the voice of the industry, SEIA works to make solar a mainstream and significant energy source by expanding markets, removing market barriers, strengthening the industry and educating the public on the benefits of solar energy. www.seia.org
Featured Product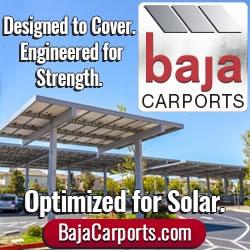 Baja Carports offers an extensive solar support system product line customized to customers' site specifications by in-house engineers, meeting their parking lot coverage, plus optimal PV production needs. Baja's Full Cantilever Tee is often paired with its Semi and Full Cantilever carports to meet live/loads up to 60psf and wind speeds to 160mph. All Baja products are pre-fabricated, bolted connections, pre-galvanized structural steel for fast on-site installation and project aesthetic requirements."