Online and In-Person Solar PV Training Covering Entry Level to Advanced Solar Photovoltaic Topics
Paonia, Colorado April 10, 2013

Solar Energy International (SEI) announces April 22nd Earth Day Solar PV training events. For Earth Day 2013, SEI will be offering some of their most popular training sessions both online and in-person in support of their non-profit mission of renewable energy education for a more sustainable future.
Starting April 22nd (Earth Day) SEI is offering the following training sessions:
* PVOL101 - Solar Electric Design and Installation (Grid-Direct) - Online
RDOL101 Renewable Energy for the Developing World - Online
PVOL203 - Solar Electric Design (Battery-Based) - Online
PV101: Boulder CO. - Solar Electric Design and Installation (Grid-Direct)
In over 20 years of service as a non-profit renewable energy education provider, SEI has trained thousands of students that have come through their classroom and lab training. Many of SEI's alumni have expressed a strong world view and environmental focus for their reasons for pursuing a renewable energy education. Chris Turek, Director of Online and Student Services was asked about SEI's mission and alignment with Earth Day events.
Turek said, "Earth Day started back in the 1970s before SEI's existence, but over the last 20 plus years we have been carrying the torch in support of Earth Day's purpose through our global renewable energy education programs."
When asked about the typical SEI student demographic Turek went on to say, "We offer levels of training for anyone at any level of knowledge from our Free RE100: Introduction to Renewable Energy Online Course and our PV101: Solar Electric Design and Installation to the highest level of technical training through our PV351L hands-on lab for solar professionals that covers tools and techniques for operation and maintenance."
"In recent years and with the expansion of an actual renewable energy industry, and more specifically a burgeoning solar industry, the majority of our student population has shifted to people wanting to become highly technicians and start businesses and careers in the solar industry."
"With that said, we still offer entry level training suitable for the beginner to get a taste of the technical training we offer to be more knowledgeable when considering adoption of solar energy for their own home or business. Some people just want to be more technically informed when renewable energy comes up in conversation with family, friends, and co-workers."
The first Earth Day on April 22, 1970, activated 20 million Americans from all walks of life and is widely credited with launching the modern environmental movement. The passage of the landmark Clean Air Act, Clean Water Act, Endangered Species Act and many other groundbreaking environmental laws soon followed.
Growing out of the first Earth Day, Earth Day Network (EDN) works with over 22,000 partners in 192 countries to broaden, diversify and mobilize the environmental movement. More than 1 billion people now participate in Earth Day activities each year, making it the largest civic observance in the world.
About Solar Energy International
Solar Energy International (SEI) was founded in 1991 as a nonprofit educational organization to help others to use renewable energy resources and sustainable building technologies through education and technical assistance.
Our vision is focused on helping create a more sustainable future for our planet and its inhabitants. Through our work, we see clear opportunities to influence people's thinking and behaviors towards energy efficiency and the use of natural, sustainable methods of energy production and utilization.
Solar Energy International is a 501(c)(3) Equal Opportunity Institution and Employer, and is not affiliated with any dealer, manufacturer, distributor, or any other renewable energy commercial enterprise.
Media contact for SEI is Christopher Turek, Director of Online and Student Services - chris(at)solarenergy(dot)org - 970-963-8855 x115 - http://www.solarenergy.org
Featured Product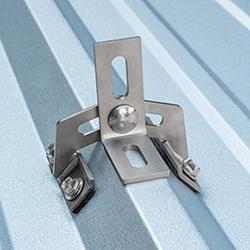 Explore new lines of income for your solar installation business with QuickBOLT's Stone Coated Steel roof mounts designed in partnership with metal roof manufacturers themselves. These SCS roof mounts work on all metal tile profiles and will help you bring in money you're missing out on. By not driving into the roofing material, QuickBOLT's Stone Coated Steel roof hooks maintain the integrity of the roof. Install with ease and confidence knowing your roof is protected against the harsh elements that these hooks are designed for.