Specific to financing residential solar and renewable energy systems
Providence, RI – Admirals Bank announced they have launched a new division, titled Admirals Alternatives, specific to financing residential solar and renewable energy systems. Admirals Alternatives assists homeowners across the United States in understanding the value of owning these systems as opposed to leasing them. The innovative loan programs1 designed by this division help homeowners own their system and save money on energy costs while allowing them to produce clean energy.

The Admirals Alternatives division has created loan programs specifically tailored to the solar and renewable energy industry, which allow homeowners to apply for up to $40,000 for residential renewable energy systems. The division can prequalify2 a homeowner in minutes.
Ryan Wells, Vice President and Director of Renewable Energy Lending Programs stated, "Current Solar Renewable Energy Credits and incentives alone make home solar energy an attractive purchase. Our financing will pay for the system upfront, which will help and homeowners reap the benefits of such incentives."
Unlike the current solar leasing options, Admirals Alternatives' financing allows homeowners to be eligible for utility and government incentive monies reserved for purchasing home renewable energy systems.3 If a homeowner decides to use these benefits to pay down the principal amount of the loan, the homeowner will also be entitled to a one-time, re-amortization of the loan, at no cost, to reduce the monthly installment payments. In some cases the monthly loan payment will be less than the savings received through the reduction of the homeowner's energy costs, resulting in a net benefit.4 Many homeowners are typically only presented with the option to lease their solar system from a third-party owner who collects the tax incentives and other available rebates.
Admirals Alternatives works with hundreds of notable distributors, manufacturers and installers across the United States to finance projects for their customers. Approved companies refer interested customers, who otherwise would not be able to easily purchase a system upfront, to Admirals Alternatives for financing options.
The Admirals Alternatives division is comprised of dedicated Relationship Managers who establish and build relationships within the solar and renewable energy industry. Each Relationship Manager participates in an extensive, mandatory internal training program to ensure each individual is capable of providing expert assistance in this industry. All Relationship Managers are empowered to respond to any request or inquiry their companies or customers may present.
Mr. Wells continued, "The companies we work with, as well as their customers, greatly benefit from the financing we provide. This industry has been in need of a financing resource and we are proud to be pioneers of Renewable Energy Lending."
In addition to personal industry experts, a wealth of expertise and an exclusive product line, Admirals Alternatives also offers homeowners and contractors an online resource to obtain information, access online tools and apply for a loan directly. Please visit www.admiralsbank.com/renewable-energy-lending for more information.
About Admirals Bank
Admirals Bank is a federally-chartered financial institution headquartered in Boston, MA with a Regional Banking Center in Providence, RI. Admirals Bank is an active acquirer of commercial real estate loans in the secondary market and also remains a leading national provider of the Title I Home Improvement Loan. Admirals Bank continues to focus its Title I lending efforts in the residential solar and renewable energy industry. Admirals Bank also offers customers additional borrowing options such as Residential Mortgages and Personal Loans.
Admirals Bank provides customers with classic banking options such as checking, savings and money market accounts, which can be conveniently opened and maintained online or via a mobile device. Admirals Bank also introduced Bespoke Banking to the financial industry, which is individually tailored, highly customized, relationship banking. Admirals Bank is an Equal Housing Lender and Member FDIC.
Featured Product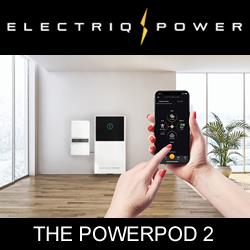 The Electriq PowerPod 2 is a fully-integrated home energy storage, management, and monitoring system powered by LFP batteries. The high-performance, cobalt-free product includes a hybrid solar/battery inverter controlled by intelligent software. The PowerPod 2 provides backup power and can self-consume or export excess power back to the grid.