One of the world's largest investor-owned power utility, E.ON of Germany, selected Ontario, Canada's Mississauga-based Hydrogenics Corporation to build, install and service a Power-to-Gas demonstrator.
As more and more of the world embraces renewable energy, the market for energy storage on the grid is predicted to surpass $30 billion annually by 2022, according to a new report on energy storage by Navigant Research (formerly Pike Research), part of Chicago-based Navigant Consulting.

In 2012, one of the world's largest investor-owned power utility, E.ON of Germany, selected Ontario, Canada's Mississauga-based Hydrogenics Corporation to build, install and service a Power-to-Gas demonstrator in Falkenhagen, Germany as part of E.ON's ambitious plan to provide 20 per cent of that country's electricity needs through renewables by 2020.
According to Daryl Wilson, President and CEO of Hyrdogenics, Ontario is one of leading hydrogen power development centres in the world.
Recently Ontario finished installing almost 5 million smart meters and is currently in the midst of a $2 billion infrastructure expansion program. Ontario is also home to one of the world's largest operational PV solar farms, the 10 largest wind farms in Canada and more than 6,000 grid-connected small-scale solar projects. The insights and innovations that have arisen from these initiatives are enabling companies like Hydrogenics to develop clean energy solutions that are now helping smart grid leaders worldwide to solve problems and save money.
With more than six decades of expertise in this field, Hydrogenics has developed a new, innovative and cost-effective energy storage technology that has attracted worldwide attention. Says Wilson: "Germany has a large amount of surplus wind and solar power. We won the contract because of our leadership in hydrogen-power technology, our global experience, and because we offered an innovative, very competitive turnkey solution."
Support for innovation
Wilson credits Ontario's innovation-nurturing climate for his company's success.
"We have benefited a lot from Ontario programs supporting innovation, demonstration projects and grants for research and development," says Wilson. "We are a global leader and our Ontario base will help us maintain that position."
The company's "Power-to-Gas" breakthrough allows surplus energy production from wind, solar and nuclear power sources to be converted into hydrogen, which is then injected into a natural gas pipeline where it combines with the natural gas to produce "hythane", which is in turn stored and delivered through natural gas pipelines as needed. Hythane has an energy storage capacity 100 times greater than compressed air, the nearest competitive alternative.
The advantage
Hydrogenics' Power-to-Gas technology has a number of advantages – it enables grid operators to work with and utilize the natural gas distribution network to manage energy flow and the conversion from electricity to gas and back again.
Since the infrastructure for distribution and storage already exists, transmitting energy via a gas line is much less expensive and also helps offset the cost for new transmission requirements. Another advantage is that because the stored energy is not restricted to the generation site, grid operators can more easily distribute power when and where it is needed. And thirdly, it provides grid operators with a substantially larger grid management tool than through conventional means.
In June 2012, Hydrogenics was awarded a Sir William Grove Award by the International Association of Hydrogen Energy (IAHE) for the company's demonstrated advancement of hydrogen as a leading clean, renewable energy source of the future.
Hydrogenics is also a global pacesetter in other hydrogen power fields including power modules and fuels cells being used to power military, commercial and utility vehicles in the U.S., Germany, Norway and Switzerland as well as setting up hydrogen fuelling station networks in Germany, Norway and Switzerland. The company's leadership in these emerging hydrogen economies is further validated by its biggest sale of 2012 – and in the company's history. Worth more than $90 million, the firm will design and manufacture fuel cell power systems, power electronic converters and the associated software for a major manufacturer.
The company is also forging significant partnerships domestically, thanks in part to Ontario's strategic location and easy access to the U.S. marketplace. For example, Enbridge Inc., a global leader in energy innovation, has invested $5 million in the company, creating a synergy between Hydrogenics's expertise in water electrolysis and Enbridge's extensive North American pipeline network.
Featured Product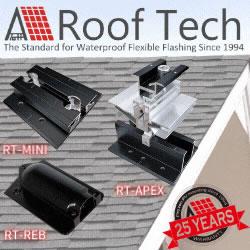 Now Roof Tech brings you the most innovative, watertight mounting systems ever developed for solar photovoltaic systems. Designed and manufactured exclusively for us by Japan's longtime leader in roofing technologies, Roof Tech products are 100% code-compliant and offer fast, simple installation and huge savings on shipping costs due to their compact, rail-less design. Learn more about our full line of versatile PV mounting solutions now available for residential installations. The next generation in rooftop solar mounting solutions."