Comprising of three Vestas V90 wind turbines
Cuxhaven, 16. April 2013 - The wind farm project developer, PNE WIND AG, has

completed the construction of the "Zernitz II" wind farm in Brandenburg
comprising of three Vestas V90 wind turbines with a hub height of 95 meters
and a total nominal capacity of 6 MW. The wind turbines are already
operating.
In addition, PNE WIND AG has begun construction on another wind farm. The
"Langwedel II" project in Lower Saxony will be constructed with four Vestas
V90 wind turbines with a hub height of 125 meters and a total nominal
capacity of 8 MW. The wind farm is scheduled to be completed and
commissioned in 2nd quarter 2013.
Both of above projects are additions to wind farms which were previously
developed by PNE WIND AG and have been in operation for some time.
Featured Product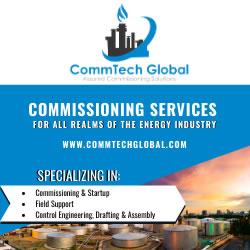 CommTech Global Solutions, LLC, provides professional and reliable commissioning services to customers in all realms of the energy industry. We blend our skills in engineering and technology with innovative business models, offering a complete range of services to assist you for a successful and in compliance operational startup. Consolidation of all our service domains gives our clients a comprehensive set of expertise and far-reaching experience on each project.