PV Insider's South African market update and projects map provides an exclusive breakdown of Rounds I and II of South Africa's Renewable Energy Independent Power Producer Programme (REIPPP), plus the size and location of 27 PV projects under development in this region.
Researchers at PV Insider have completed work on the PV South Africa Market Update and Projects Map 2013, which provides an exclusive breakdown of the progress made in Rounds I and II of the REIPPP. Furthermore, the industry guide examines the impact that delays to Round III of the REIPPP have had on the solar-PV market in South Africa.

The projects map details the size and location of 27 PV plants that successfully won bids in Rounds I and II of the REIPPP and it also provides global horizontal irradiance data for South Africa and the projects are overlaid to show their location on the GHI map.
Global horizontal irradiation in South Africa varies between 1600 to 2300 kWh/m2, and the PV Plants Map South Africa includes GHI data collected from 1994-2012. This has been made available to the industry to enable a better understanding of South Africa's highly esteemed solar resources, and to give developers the tools they need to select the best location to develop plants in this region
This unique map is free to download, and can be found here:
http://www.pv-insider.com/africa/content.php
For more information about PV Insider contact Jack Ahearne by email: jack@pv-insider.com
Featured Product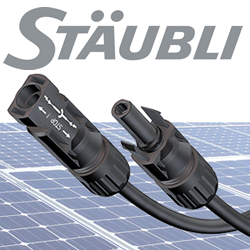 ​Stäubli Electrical Connectors are used on more than 300 GW, over 50% of the PV capacity worldwide. The MC4 family of UL and TUV listed products include connectors, in-line fuses, branch connectors, cable assembly and more.