State solar policy that lowers costs, increases investment is a major job driver
WASHINGTON, DC - The Solar Foundation (TSF), an independent nonprofit solar research and education organization, today announced the release of its State Solar Jobs Map (www.solarstates.org), a web-based tool providing the first-ever solar jobs numbers for each of the 50 states. California ranked first in the country with 43,700 local solar jobs, more than quadruple the number of solar workers in any other state.

Solar advocates credit California's strong energy policies for unleashing solar investment and job growth in the state. The state has one of the nation's most aggressive utility renewable energy goals, a 33% Renewable Portfolio Standard (RPS). It is also home to the largest rebate program for customer solar, the California Solar Initiative (CSI), which works with strong net metering policy to support customer investment in solar. Together these programs have helped drive down solar costs and make California the nation's solar leader.
"The Solar Foundation's map illustrates that solar is an economic engine in California. Pro-business policies that lower solar costs and increase demand are helping to drive solar job growth in communities throughout the state. Ensuring continued policy leadership will keep California's solar industry delivering those much-needed economic benefits," said Carrie Cullen Hitt, senior vice president of state affairs at the Solar Energy Industries Association (SEIA).
"Local solar means local jobs, and with TSF's State Solar Jobs Map, we have a broad picture of these American jobs for the first time," said Susannah Churchill, California solar policy advocate for Vote Solar. "California isn't our nation's solar job leader by accident; it took smart solar policy to get us here. Now that California has built a new energy economy, we must keep the way clear for continued growth with strong net metering rules and other programs that expand solar access."
TSF found that the top ten states for solar jobs in 2012 were: California, Arizona, New Jersey, Massachusetts, Pennsylvania, Colorado, New York, Texas, Michigan, and Ohio. According to TSF's National Solar Jobs Census 2012, the U.S. solar industry employed 119,016 workers across all 50 states in 2012, adding nearly 14,000 workers over the previous year. This figure represents a 13.2% employment growth rate for solar, compared to a 2.3% employment growth rate for the general economy during that same period. Thirty-one percent of employers indicated that component price declines were the greatest driver of company growth.
"Our greatly-anticipated State Solar Jobs Map provides the most credible and comprehensive glimpse to date of solar employment at the state level," said Andrea Luecke, TSF executive director. "These jobs figures demonstrate that the U.S. solar industry remains a powerful source of local job creation."
TSF's interactive map also presents information on the relative size of solar industry subsectors in each state and allows users to explore how their state measures up to others in terms of key solar policies, jobs per capita, and number of homes powered by solar energy. Thousands of data points from a combination of high-quality sources including TSF's National Solar Jobs Census 2012 and the Solar Energy Industries Association's National Solar Database were analyzed via a dual methodology to develop the jobs estimates that are the focus of this unprecedented effort.
California is the nation's leader in installed solar capacity with 2,902 megawatts (MW). There is enough solar energy installed in the state to power 626,000 homes and in 2012 alone, $2.6 billion was invested in California to install solar on homes and businesses.
About The Solar Foundation:
The Solar Foundation is a national 501(c)(3) nonprofit, non-lobbying organization founded in 1977 that strives to increase the widespread adoption of solar energy through educational outreach, policy research, and market transformation. Read more at www.TheSolarFoundation.org
Featured Product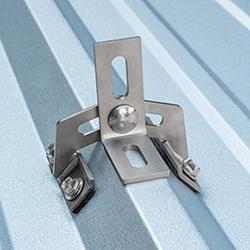 Error-Proof Compression: The QB2 doesn't leave any room for user error when it comes to Microflashing® compression. Once the Dual Drive Shoulder Screw is secured, the Microflashing® is compressed. Only 3 Components: The QB2 is comprised of Microflashing®, an L-foot and a Dual Drive Shoulder Screw. No more Nuts needed to tighten and secure the L-foot! Not only does this simplify the installation process, it also cuts down the installation time.