Solar leasing provider Sunnova partners with SolarBridge Technologies and ET Solar to offer residential customers ACPV systems.
Austin, TX April 18, 2013

Homeowners in search of flexible financing for their solar systems now have a product option that dramatically increases energy harvest and improves system uptime: ACPV systems. In a partnership with residential lease provider Sunnova, TrueACTM module systems from ET Solar and SolarBridge Technologies will now be offered to Sunnova's residential lease customers.
Sunnova's decision to include TrueAC systems in their product portfolio signals a move by the solar leasing industry toward increasingly plug-and-play systems that reduce installation as well as operations and maintenance (O&M) costs. Sunnova selected ET AC modules powered by SolarBridge microinverters because of their higher power output and quality-focused factory-integration of the SolarBridge microinverter with ET solar panels.
"Sunnova is very particular when it comes to selecting our partners," said Jordan Fruge, senior vice president of sales, Sunnova. "SolarBridge and ET are great fits for our program, because like Sunnova they are both extremely focused on equipping contractors and installers with innovative, high-quality solutions that will efficiently grow their businesses."
Every ET AC module system comes equipped with a gateway device that provides module-level monitoring and cloud-to-cloud access of site performance for contractors, site owners and leasing companies. This enhanced fleet visibility is ideal for solar lease providers eager to reduce O&M costs and actively troubleshoot any performance gaps.
"TrueAC modules are well-suited for the leasing model because of their design flexibility, ease of installation as well as their robust management capabilities capturing the performance of every module and microinverter," said Craig Lawrence, vice president of marketing, SolarBridge Technologies. "For financial leasing companies this performance visibility translates directly to the bottom line."
The solar leasing industry now accounts for a growing percentage of all residential installations in the U.S. The introduction of TrueAC systems to the leasing marketplace from companies like Sunnova will enable even more homes to qualify for solar, since ACPV systems maximize energy harvest regardless of roof orientation or shading. TrueAC systems are especially attractive because their plug-and-play design cuts installation time up to 50 percent – a huge advantage for solar lease providers looking to increase the number of sites installed per day.
As with all TrueAC systems powered by SolarBridge, ET AC modules are certified as a complete AC module assembly to UL 1741 with additional evaluations performed from UL 1703. The complete system is warrantied for 25 years, end-to-end.
About SolarBridge Technologies
SolarBridge Technologies, a leader in integrated microinverter technologies for the solar industry, is accelerating the adoption of solar energy in residential and commercial applications. The SolarBridge AC Module Systemófeaturing the SolarBridge Pantheon II microinverter, Power Manager and Power Portalódramatically increases the efficiency and reliability of PV systems, while reducing the cost of energy. The SolarBridge microinverter matches the lifetime of solar modules, enabling module manufacturers to provide a 25-year warranty on AC modules. The company is headquartered in Austin, Texas. For more information, visit http://www.solarbridgetech.com.
About Sunnova
Sunnova is a leading residential solar financing provider with a management team that has financed solar for more than 3,000 homes and 22 MW of residential solar throughout the United States. With a thorough understanding of the market and deep industry experience, Sunnova is focused on making solar a simple and affordable option for homeowners. Sunnova provides a solar leasing solution in Arizona, California, Colorado, Delaware, Hawaii, Massachusetts, Maryland, New Jersey, New Mexico, New York, and Texas with plans to add additional states in the near future. For more information visit http://www.sunnova.com.
About ET Solar
ET Solar Inc., the U.S. subsidiary of ET Solar, offers 24X7 Tech and sales support to the U.S. market. With two established sales offices and warehouses in California and New Jersey, ET solar can offer customers quick response such as in/out field technical support and worry-free product replacement. To learn more about ET Solar, please visit http://www.etsolar.com.
Featured Product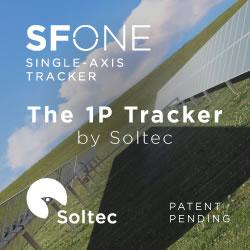 SFOne is the 1P single-axis tracker by Soltec. This tracker combines the mechanical simplicity with the extraordinary expertise of Soltec for more than 18 years. Specially designed for larger 72 an 78 cell modules, this tracker is self-powered thanks to its dedicated module, which results into a lower cost-operational power supply. The SFOne has a 5% less piles than standard competitor, what reduces a 75% the labor time.