Solar development company, Clean Footprint, scheduled to begin a full solar install on Sunseed Food Co-op in Cape Canaveral just in time for Earth Day.
 Cape Canaveral, FL - April 18, 2013 - Cape Canaveral-based solar development company, Clean Footprint, prepares to kick off Earth Day this year with the install of a full solar array on the roof of Sunseed Food Co-op, a local grocery store specializing in organic nutrition and environmentally benign food products.   Sunseed Co-op will also be hosting an Earth Day celebration on April 22, 2013 from 12:00 PM - 7:00 PM, with a short "Electric Cord Cutting" ceremony to kick off the installation at 6:00 PM.  

The Sunseed Earth Day Celebration event will include live music, raffles, and vendor booths. The founders of Clean Footprint, including former Cape Canaveral mayor John Porter, and the Sunseed Co-Op management team will make brief announcements about the importance of sustainable alternative energy technologies. 
Sunseed's Director of Operations, Sean O'Hare says, "Sunseed Co-op is thrilled to take this giant step forward by bringing solar energy to our already unique business strategy, allowing us to promote environmentally clean energy as well as sustainable agriculture through selling organic products."
Catering to the needs of the health-conscious, Sunseed Food Co-op is a non-profit organization that provides healthy, organic, affordable alternatives to mainstream products found in other stores. With the coming addition of a full solar array, Sunseed will be able to include reducing its carbon footprint to its list of societal benefits. 
Over a 20-year period, the carbon offset achieved by the new solar array is equivalent to planting 7,417 trees, eliminating 673 barrels of oil, and removing 60 passenger vehicles from the road. The install, consisting of a 15.08 kW rooftop solar array, will begin later in the week following the celebration. 
Clean Footprint is a solar development and finance company that provides property owners with access to renewable energy technologies by connecting them with sustainable energy investors. Each Clean Footprint project provides substantial cost savings to the property owner and a high rate of return to the investor. Fully engaged in the sales, marketing, and financing of solar installations, Clean Footprint works with commercial property owners, governments, and institutions to implement these cutting-edge, carbon-free renewable energy technologies. 
For more information about Clean Footprint's zero down solar leases, please contact John Kluwin at 727-466-8896 or John.Kluwin@clean-footprint.com, or visit their website, www.clean-footprint.com. 
Featured Product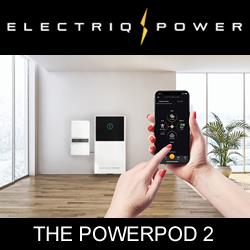 The Electriq PowerPod 2 is a fully-integrated home energy storage, management, and monitoring system powered by LFP batteries. The high-performance, cobalt-free product includes a hybrid solar/battery inverter controlled by intelligent software. The PowerPod 2 provides backup power and can self-consume or export excess power back to the grid.