The Carbon Reduction Target is the First for the Company
Iron Mountain Incorporated (NYSE:IRM) pledged today to cut its absolute greenhouse gas emissions across North America and the United Kingdom five percent below 2012 levels by the end of 2014. On this annual observance of Earth Day, the company advanced its commitment to environmental sustainability, setting a carbon reduction goal for the first time in the history of the storage and information management firm.

"Reducing our carbon footprint is the right thing to do both for our business and our environment," said Iron Mountain President and CEO Bill Meaney. "With thousands of trucks on the road and an expansive network of storage facilities, we plan to continually optimize our operations so that we're serving customers most efficiently and minimizing our environmental impact in the process. We're excited about the progress we've made with sustainability, and we're proud to announce our first-ever target for reducing greenhouse gases."
Achieving the goal will require the company to eliminate approximately 13,500 metric tons of absolute greenhouse gas emissions relative to its carbon footprint in 2012. According to the EPA's Greenhouse Gas Equivalencies Calculator, that's equal to taking 2,800 vehicles off the road for one year. To do so, Iron Mountain will focus on several initiatives to lower energy usage at its storage facilities and improve the fuel economy of its truck fleet.
Continuing on work from last year, Iron Mountain and real estate partner CBRE are upgrading lighting systems in facilities across the United States and Canada with high-efficiency T8 lamps. The project will reduce the company's carbon footprint, improve the working environment at these facilities and yield an expected annual energy savings of approximately $2 million.
Iron Mountain is also taking steps to reduce the fuel consumption of its truck fleet. The company has worked for more than a decade to optimize the density of its service-delivery routes, ensuring couriers serve the most customers over the fewest miles. Iron Mountain is also installing telematics technology in its U.S. vehicles, after having successfully outfitted its U.K. fleet with similar systems. The technology provides transportation leaders with vehicle speed, acceleration rates, idle time, odometer information and cruise control settings so they can coach couriers on operating vehicles more efficiently. Today, nearly 900 Iron Mountain trucks in the United States and United Kingdom carry the systems, and the company intends to have them in approximately 3,000 vehicles by the end of 2014.
Other environmental initiatives not tied to the five percent goal include Iron Mountain's partnership with SunEdison to enable the production of solar energy from photovoltaic cells placed atop several Iron Mountain storage facilities in New England. The first panels were installed this month at a facility in Windsor, Conn., and the company will add panels at other facilities throughout the year.
Iron Mountain is also working to implement waste management plans at all its facilities in North America and the United Kingdom by the end of 2014.This expands on a recycling program started in 2012 at the company's corporate headquarters and will include processes for reducing both office and operational waste. Additionally, Iron Mountain will continue to support its customers' sustainability goals by recycling securely shredded client documents and diverting 450,000 tons of paper from landfills every year in the process.
"One of the key pillars in our corporate responsibility program, Taking CARE, is our commitment to environmental sustainability," said Samantha Joseph, director of corporate responsibility for Iron Mountain. "Iron Mountain has a culture of continuous improvement. We are always looking for ways to improve our efficiency and service quality to our customers, and we value being able to help customers meet their environmental goals. Our company's commitment to sustainability is integral to our business strategy."
Taking CARE also includes global strategies and initiatives for community engagement, employee advocacy and information responsibility. Visit www.ironmountain.com/responsibility for more information.
About Iron Mountain
Iron Mountain Incorporated (NYSE: IRM) is a leading provider of storage and information management services. The company's real estate network of over 64 million square feet across more than 1,000 facilities in 35 countries allows it to serve customers with speed and accuracy. And its solutions for records management, data backup and recovery, document management, and secure shredding help organizations to lower storage costs, comply with regulations, recover from disaster, and better use their information for business advantage. Founded in 1951, Iron Mountain stores and protects billions of information assets, including business documents, backup tapes, electronic files and medical data. Visit www.ironmountain.com for more information.
Featured Product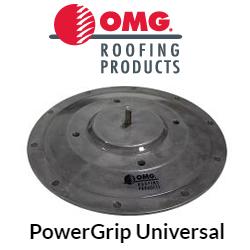 Eliminate Solar Rack Ballast and Reduce Rooftop Material Handling. PowerGrip™ Universal (PGU) is a commercial roof mount system designed to secure solar racks and other equipment to any type of commercial roofing system. PGU provides a secure connection directly to the roof deck or structural members and is designed to reduce or eliminate ballast in solar racking systems, so there's less weight on the roof and less material handling. Made of heavy-duty cast aluminum, PGU units include a base ring which is secured through the roofing cover and into the structural roof deck, and a waterproof top plate.