Composite Bearings Manufacturer Enters Pumps Market in Europe and Asia
23 April 2013 – Building on its success in the construction and industrial pumps market in the US, Saint-Gobain Performance Plastics has launched its innovative NORGLIDE® composite bearings solutions for hydraulic pump technology in heavy-duty vehicles throughout Europe and Asia. The company has been developing low-friction, wear-resistant NORGLIDE® composite bearings to help manufacturers in the US minimise maintenance requirements for their pump technology for many years and is now extending its offering to the UK and Germany as well as Asian markets, such as China. Self-lubricating and wear-resistant, Saint-Gobain's technology ensures friction control within pump applications throughout the long life of the mechanism. NORGLIDE® composite bearings also help European manufacturers comply with carbon dioxide (CO2) emissions standards, such as the European Union's (EU) Stage IIIB by helping to reduce fuel consumption during pump operation.

Composed of a self-lubricating liner of polytetrafluoroethylene (PTFE) on a laminated metal backing, NORGLIDE® composite bearings maintain smooth movement between the shaft of piston pumps and the outer housing. PTFE can tolerate operating temperatures of up to 260° Celsius while the laminated metal backing can withstand the high stresses experienced within pump applications. The use of specialised filler compounds within the PTFE liner minimises wear, offering consistent maintenance-free composite bearing performance throughout the lifetime of the pump.
Standards currently in place in Europe and the US require manufacturers to achieve a 90 per cent reduction in emissions of particulate matter along with a 50 per cent cut in the discharge of nitrogen oxides (NOx). New regulations, including the US Environmental Protection Agency (EPA) Tier 4 and the EU Stage IV, due to be introduced in 2014 and fully implemented by 2015, stipulate that manufacturers should lower NOx emissions by a further 80 per cent.
The smooth movement offered by the PTFE reduces the energy required to rotate the mechanism's drive, decreasing fuel consumption and enhancing energy efficiency. NORGLIDE® composite bearings' split-ring design is smaller and lighter than traditional solutions for pump applications, allowing manufacturers to shrink the footprint of their pumps and to use smaller, more efficient motors for further reduction in fuel consumption. This supports pump manufacturers CO2 emissions reduction efforts for compliance with these standards.
Global Market Manager Industrial at Saint-Gobain Performance Plastics, Ed Rumble said, "Our NORGLIDE® composite bearings have developed a reputation for reliability in North America, supporting our customers' efforts to reduce time-consuming maintenance and comply with increasingly stringent emissions standards. Now manufacturers in Europe and Asia can benefit from our expertise in maximising the efficiency of hydraulic pumps and lowering the total cost of ownership of their products".
About Saint-Gobain Performance Plastics Bearings and Tolerance Rings SBU
Saint-Gobain is a global leader in the design, production and distribution of innovative, high performance materials for industry and employs around 193,000 people. With operations in over 64 countries, Saint-Gobain is the 60th largest employer and among the top 100 global industrial companies worldwide. Last year, Saint-Gobain achieved global sales of over €43,2 billion. Saint-Gobain is listed on the stock exchanges of Paris, London, Frankfurt, Zurich, Brussels and Amsterdam. Saint-Gobain's global strategy is focused around three core markets: Construction Products, Innovative Materials, and Building Distribution; and, the company is committed to play a leading role in developing energy efficient innovations for the housing and construction sectors, protecting the environment, and managing growth in a sustainable fashion.
With 15 sites and six R&D centres globally, the Bearings and Tolerance Rings SBU of Saint-Gobain Performance Plastics provides 'engineer-to-engineer solutions-in-motion' to high volume international OEMs in the automotive, leisure, energy, industrial, and other markets. Backed by a heritage of product innovation, technology, advanced materials and market leadership, they are dedicated to working with customers using their extensive engineering expertise to deliver standard and custom solutions in NORGLIDE® composite bearings, RENCOL® tolerance rings, SOLGLIDE® composite bearings, JOINSHIM® rings, and NORSLIDE® cable liners that meet the most demanding applications. For further information, please visit: www.bearings.saint-gobain.com
Featured Product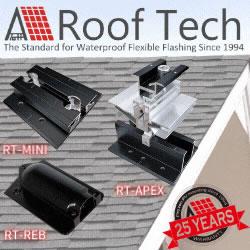 Now Roof Tech brings you the most innovative, watertight mounting systems ever developed for solar photovoltaic systems. Designed and manufactured exclusively for us by Japan's longtime leader in roofing technologies, Roof Tech products are 100% code-compliant and offer fast, simple installation and huge savings on shipping costs due to their compact, rail-less design. Learn more about our full line of versatile PV mounting solutions now available for residential installations. The next generation in rooftop solar mounting solutions."