A Frost & Sullivan's web conference will discuss how the adoption of Long Term Evolution (LTE) technology and the infrastructure it requires are influencing demand for batteries
The increasing adoption of smartphones is boosting the demand for batteries as it has never happened before, putting both power and telecom sectors under pressure, but at same time unveiling interesting opportunities.

The changing technology landscape in Europe in the battery market for Telecoms will be discussed in Frost & Sullivan's web conference, taking place on Thursday, 2 May, 2013 at 2 pm BST. Energy & Power Systems industry manager Suba Arunkumar will lead the online conference that will focus on how telecommunication networks in Western, Central and Eastern Europe are adopting Long Term Evolution (LTE) technology, the infrastructure it requires and how this is influencing demand for batteries. Ms Arunkumar will also present the well established and mature battery technologies and which are the upcoming ones for telecom applications.
"Convergence has made a smart phone function as a voice communication device, a computer with internet data communication, a camera, a music player and also for storing data. A phone with all these features operating in 3rd Generation (3G) network or Long Term Evolution (4G) network transfers large data for voice calls, video conferencing, e-mail support and other communication through wi-fi network. This leads to higher bandwidth of data transmission in a base transceiver station (BTS)," explains Frost & Sullivan Industry Manager Arunkumar.
"A BTS with higher data transmission would need more transceivers requiring uninterrupted power throughout. This increases the energy required for the transceiver station. To support this energy requirement, back-up power is used, which has batteries in it. Thus, with higher energy requirement, demand for batteries increases," adds Ms Arunkumar.
Similarly, the base station controller and mobile switching centre needs to be upgraded to handle higher bandwidth of data transmission. This requires uninterrupted power which in turn requires battery back-up, thus driving demand for batteries.
Frost & Sullivan conference will help understand the influence of LTE Technology on power demand, and identify the opportunities and growth potential in Europe and specifically CEE region for telecom batteries. The contribution of recent battery chemistries in a lead acid battery dominated industry will also be discussed. "The development of battery-aware sensor network will be the next technological evolution in the telecom industry that will influence the battery market enormously. Battery-aware sensor network aims at optimal usage of small cylindrical batteries that power the electronic circuitry in the telecom devices. This advancement enhances battery life and performance," explains Ms Arunkumar.
Central and Eastern Europe will show the most interesting developments. It is forecast High growth potential for Estonia, Poland, Hungary, and Czech Republic. Demand for batteries towards wireless transmission network will also be high in Western Europe, specifically in Nordic countries, Germany, France and the U.K.
To participate in this complimentary briefing, please e-mail Chiara Carella, at chiara.carella@frost.com, with your full name, company name, telephone number, company website, city, and country, and a registration link will be e-mailed to you. You may also register to receive a recorded version of the briefing at anytime by submitting the aforementioned contact details.
About Frost & Sullivan
Frost & Sullivan, the Growth Partnership Company, works in collaboration with clients to leverage visionary innovation that addresses the global challenges and related growth opportunities that will make or break today's market participants.
Our "Growth Partnership" supports clients by addressing these opportunities and incorporating two key elements driving visionary innovation: The Integrated Value Proposition and The Partnership Infrastructure.
• The Integrated Value Proposition provides support to our clients throughout all phases of their journey to visionary innovation including: research, analysis, strategy, vision, innovation and implementation.
• The Partnership Infrastructure is entirely unique as it constructs the foundation upon which visionary innovation becomes possible. This includes our 360 degree research, comprehensive industry coverage, career best practices as well as our global footprint of more than 40 offices.
For more than 50 years, we have been developing growth strategies for the global 1000, emerging businesses, the public sector and the investment community. Is your organisation prepared for the next profound wave of industry convergence, disruptive technologies, increasing competitive intensity, Mega Trends, breakthrough best practices, changing customer dynamics and emerging economies?
Contact Us: Start the discussion
Join Us: Join our community
Subscribe: Newsletter on "the next big thing"
Register: Gain access to visionary innovation
Contact:
Chiara Carella
Corporate Communications – Europe
P: +44 (0) 20 7343 8314
M: +44 (0) 753 3017689
E: chiara.carella@frost.com
http://www.frost.com
Featured Product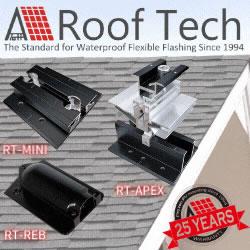 Now Roof Tech brings you the most innovative, watertight mounting systems ever developed for solar photovoltaic systems. Designed and manufactured exclusively for us by Japan's longtime leader in roofing technologies, Roof Tech products are 100% code-compliant and offer fast, simple installation and huge savings on shipping costs due to their compact, rail-less design. Learn more about our full line of versatile PV mounting solutions now available for residential installations. The next generation in rooftop solar mounting solutions."