Company expands wind generation capacity to 472 megawatts in Texas
EDF Renewable Energy celebrates the completion of the Spinning Spur Wind Project today with a dedication ceremony, and the launch of Spinning Spur II with a groundbreaking ceremony. The Spinning Spur projects, located in Oldham County, Texas, are each 161 megawatts (MW) and together will generate clean electricity sufficient to supply approximately 100,000 average Texas homes.

Spinning Spur, comprised of 70 Siemens 2.3 MW turbines, began delivering carbon-free electricity for the benefit of Southwestern Public Service Company, a wholly owned subsidiary of Xcel Energy, under a 15-year power purchase agreement in December 2012.
Spinning Spur II is slated to start construction in June 2013 and will utilize 87 General Electric (GE) wind turbines with a rated capacity of 1.85 MW each. The project will be one of the first projects to take advantage of the new CREZ (Competitive Renewable Energy Zones) transmission line connecting the wind generating capacity of the Texas Panhandle to high electricity demand areas in the state. The electricity generated will be sold under a 10-year energy purchase agreement.
Congressman Mac Thornberry commented, "Our country has been blessed with incredible natural resources that offer us the chance to increase production of all kinds of energy here at home. It is encouraging to see folks in Oldham County using some of these resources to generate good jobs."
"Those of us from the Panhandle know that wind is part of our everyday lives; leave it to the folks at EDF Renewable Energy to hone that energy and put it to a good use. Increasing our supply of domestic renewable energy is important and has proven to be good business, and I am proud to support this project," said State Senator Kel Seliger.
State Representative John Smithee commented, "The Spinning Spur project is now a tremendous asset for Oldham County and the entire Texas Panhandle. Spinning Spur II will be yet another milestone in firmly establishing Oldham County and the Texas Panhandle as the Wind Energy Capital of the world."
Oldham County Judge Don Allred stated, "We are very excited about our relationship with EDF Renewable Energy and the economic development that is associated with the Spinning Spur project. Through the vision of the CREZ Transmission Lines, Spinning Spur II will bring about a new era in wind production as we begin to move power from the Panhandle, with its tremendous production capabilities, to the ERCOT grid where the demand for power is so great. This is wonderful for Oldham County and for the state of Texas."
Texas continues to leads the nation in installed wind capacity, due to robust wind resources, a business friendly environment, and supportive stakeholders at the state and local levels. The Spinning Spur projects represent EDF Renewable Energy's confidence in the next wave of wind power's growth and construction in the state and increased investment in Oldham County.
"The Production Tax Credit extension in early 2013 and the CREZ transmission line build-out together in parallel create an opportunity for EDF Renewable Energy to strengthen our presence in a promising region of Texas with high-quality wind resources," said Tristan Grimbert, President and CEO of EDF Renewable Energy.
He further added, "The development of renewable energy is a critically important task for the nation and for local rural communities. We applaud the vision of the Public Utility Commission of Texas for approving and financing the CREZ transmission project and opening a whole new market of low cost renewable energy benefiting the local communities and the environment."
"Cielo is proud to be a part of the Spinning Spur wind project team that is delivering high tech jobs to the Oldham County area and low cost wind energy to Xcel," says Walt Hornaday, President Cielo Wind Services, Inc. "Oldham County, Vega ISD and Adrian ISD were key partners in making this large project a success through tax incentives."
As part of EDF Renewable Energy's community engagement program the company presented the Oldham County Chamber of Commerce and Agriculture with a $2500 donation.
Following on from the Spinning Spur (161 MW) and Bobcat Bluff (150 MW) projects commissioned in December 2012, the Spinning Spur II project will be EDF Renewable Energy's third project in Texas, eventually boosting the Group's installed capacity in the state to 472 MW.
About EDF Renewable Energy:
EDF Renewable Energy is a leading U.S. independent power producer with more than 25 years of expertise in the renewable industry, covering all range of services from project development, management to operations and maintenance. EDF Renewable Energy specializes in wind and solar photovoltaic with presence in other segments of the renewable energy market: biogas, biomass, hydro, marine energy and storage solutions. The company develops, constructs, operates and manages renewable energy projects throughout the United States for its own accord as well as for third parties. EDF Renewable Energy's portfolio consists of over 3.5 gigawatts of developed projects with 1.8 gigawatts of installed capacity. EDF Renewable Energy is the U.S. subsidiary of EDF Energies Nouvelles. EDF Energies Nouvelles is the renewable energy arm of the EDF group, the leading electricity company in the world. For more information visit: www.edf-re.com
Featured Product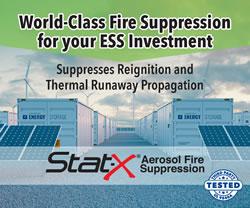 Stat-X® condensed aerosol fire suppression is a solution for energy storage systems (ESS) and battery energy storage systems (BESS) applications. Our Stat-X condensed aerosol fire extinguishing product was tested for efficacy in suppressing li-ion battery fires. It was found that the product successfully extinguished single and double cell battery fires. This testing was conducted in parallel with a large battery fire testing program on behalf of a large energy storage company.