Emerald H2 LLC and Norfolk Wind Energy LLC have signed an agreement to locate Emerald H2's first Renewable Wind and Hydrogen Production Center in Renville County, Minn.
MINNEAPOLIS – (April 29, 2013) – Emerald H2 and Norfolk Wind Energy have signed an agreement to locate Emerald H2's first Renewable Wind and Hydrogen Production Center in Renville County, Minn. The planned 10MW wind and 500,000kg hydrogen project will be the first "Utility Scale" initiative to use energy from wind turbines to produce hydrogen. In addition, by utilizing a 1MW Fuel Cell, the project offers one of the first "on-demand" renewable peaking resources by incorporating the sale of wind energy on the grid to a local utility during peak hours only. Once constructed, it will be the largest hydrogen production facility powered by wind energy in the U.S.

"With my experience in wind development, I have been looking for a process that mitigates the variability of wind energy," said Patrick Pelstring, Emerald H2 co-founder and CEO of National Renewable Solutions, a Minneapolis-based wind energy development company. "The Emerald H2 project has great potential to make our wind energy much more cost effective and targeted. By converting the "lower value" nighttime renewable energy to hydrogen, we have the ability to keep the process 100 percent renewable while maintaining reasonably priced hydrogen production."
Similar projects have been constructed in Europe and the US, but all are on a much smaller scale than the proposed Emerald H2 project. In 2009, the National Renewable Energy Laboratory (NREL) and Xcel Energy launched a wind-to-hydrogen demonstration facility in Golden, Colo., using 10 and 100KW turbines and producing hydrogen compressed to high pressure to fill the vehicle's 1.8kg storage tank.
Emerald H2 will be located within the footprint of the Norfolk Wind Energy project in Renville County, Minn., a community wind farm currently under development. Norfolk is majority-owned by area landowners and plans to build between 70 – 100 MWs in various phases over the next several years. The Emerald H2 project represents Norfolk's first 10 MW phase of wind production, or five – seven wind turbines.
Emerald H2 focused on Central Minnesota because of the combination of good wind speeds for wind production, proximity to potential customers purchasing the hydrogen, and favorable market conditions for the sale of electricity. The project will be capable of producing up to 10MWs of wind energy and over 500,000kgs of hydrogen annually. Millennium Reign Energy (MRE), one of Emerald H2's founders, will be providing its proprietary hydrogen electrolysis technology for the project. Emerald H2 expects to sell the electricity and most of the hydrogen on long-term agreements with utility and hydrogen buyers such as regional manufacturing and refining operations.
The company is currently in discussions with regional utilities to purchase the wind power and has established contact with several regional and national companies that use hydrogen in their operations.
About Emerald H2
Emerald H2, LLC was formed by two renewable industry specialists, National Renewable Solutions (NRS), a Minnesota-based wind development company, and Millennium Reign Energy (MRE), a Dayton Ohio-based hydrogen production and development company. The companies have collaborated for the purpose of developing and commercializing "Utility Scale" projects utilizing wind power to produce renewable hydrogen. To learn more, visit NRS at www.natrs.com and MRE at www.mreh2.com.
About Norfolk Wind Energy
Norfolk Wind Energy, LLC is a community wind project company seeking to construct 70 – 100 MW's of energy within Renville County, Minnesota. Norfolk is managed by National Renewable Solutions, LLC out of Minneapolis and has a local management board consisting of seven members. To learn more, visit www.norfolkwindenergy.com.
###
Featured Product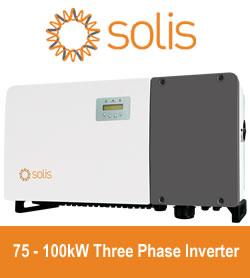 Solis75kW - 100kW series high-power string inverters are widely used in industrial and commercial rooftops. Solis's new three-phase string inverter is the first choice for industrial and commercial photovoltaics. 75-100kW three phase series string inverter have Maximum 28 strings input, support "Y" type connection in DC side. Maximum string input current 13A, support bifacial modules access.Supports anti-PID function to improve system efficiency.