Innotech Solar modules pass PID test with strict criteria
Munich/Germany, April 29, 2013 – The solar modules produced by Scandinavian-German manufacturer Innotech Solar (ITS) do not show any signs of potential-induced degradation (PID). This is the conclusion of the PID test conducted by the Fraunhofer Center for Silicon Photovoltaics CSP, which exposes solar modules to more stringent test conditions than many other institutes. The output loss of ITS modules was found to be less than 0.3 percent. To put this in context, for modules to pass the test, their potential-induced degradation must not exceed 5 percent.

"The result is a testament to the high expectations we have for the quality of our solar modules. To ensure that our modules only contain high-quality parts, all components are subjected to ambitious test procedures ," explains Dr. Thomas Hillig, Vice President Module Sales & Marketing at Innotech Solar. "Many well-known manufacturers have failed Fraunhofer's PID test." In fact, around two thirds of modules from renowned manufacturers have not passed the test conducted by Fraunhofer CSP.
The Innotech Solar modules were covered with aluminum film and tested under a negative potential of 1,000 volts. The aluminum film is used to expose the entire module to negative potential, allowing all of its areas to be tested. The test temperature amounted to 50 degrees Celsius, while the relative humidity stood at 50 percent and the modules were tested for 48 hours.
Potential-induced degradation in crystalline modules is caused by leakage currents, which involve electrons flowing directly through the module as opposed to their intended power circuit. According to Photon International, this can lead to output losses of up to 80 percent. The harmful leakage currents are caused by the difference between the voltage of individual PV modules and the ground potential. High system voltages, temperatures and humidity increase the likelihood of potential-induced degradation.
The test certificate issued by Fraunhofer CSP is available at
www.innotechsolar.com/en/downloads/product.html#c161
About Innotech Solar
The Scandinavian-German company is an international supplier of PV modules. Innotech Solar is specialized in the production of environmentally-friendly modules with optimized solar cells and makes use of innovative processes developed by in-house research teams. The carbon footprint of ITS modules is up to 74 percent less than that of conventional PV modules.
The two cell optimization plants in Narvik, Norway and Halle, Germany, are powered by hydroelectricity and a dedicated PV system. Solar modules are sold in Munich, California and Shanghai via local offices.
www.innotechsolar.com
Featured Product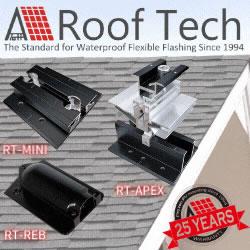 Now Roof Tech brings you the most innovative, watertight mounting systems ever developed for solar photovoltaic systems. Designed and manufactured exclusively for us by Japan's longtime leader in roofing technologies, Roof Tech products are 100% code-compliant and offer fast, simple installation and huge savings on shipping costs due to their compact, rail-less design. Learn more about our full line of versatile PV mounting solutions now available for residential installations. The next generation in rooftop solar mounting solutions."