The turbines will be installed in Mai and August 2013.
New Delhi, 29.04.2013: PowerWind Ltd. (formerly known as RK Wind Ltd.) has sold its first four wind turbines of the type PowerWind 56 to the US and Romania. The turbines will be installed in Mai and August 2013.

The former RK Wind Ltd. (renamed in February to PowerWind Ltd.) bought a major share of inventories, production-related assets and IP rights required for the production of PowerWind systems at the end of 2012.
PowerWind Ltd. is a joint venture between RS India Infra Power Ltd. (wind farm project developer) and PTC India Ltd., India's biggest private provider of electrical power. PowerWind Ltd. has been producing 600kWwind turbines exclusively for RS India Infra Power. The latter company has been developing wind farms with a total capacity of approx. 1,000 MW in India. For reasons of economic efficiency and their particular location, plans exist to equip these wind farms with more powerful wind turbines.
After the insolvency of PowerWind GmbH, the demand of the PowerWind platform was still huge. So PowerWind Ltd. decided to offer the PowerWind 500, PowerWind 56 and PowerWind 100 platforms to clients. "Through its large project pipeline and a financially strong mother company, PowerWind Ltd. offers the financial security we need to secure banks and clients. A team of former PowerWind employees ensures that the products retain their robustness and quality on a long-term base" says Marilyn Heib, the former team leader Sales Eastern Europe and now Head of Sales Europe and USA for PowerWind Ltd. The first turbine for the US market has been sold to Surenergy and will be installed this August in Port Clinton in Ohio. "The robust design of the PowerWind turbines already installed proved highly convinced. The whole concept and financial background gave us the necessary confidence, so that we decided to install a PowerWind 56 on our site again", so John Fellhauer, sales manager of Surenergy. Another two turbines went to the USA, one turbine has been sold to Romania.
Background
The PowerWind GmbH in Hamburg filed for insolvency under self-administration at the district court in Hamburg on April 24, 2012. Insolvency proceedings were then instituted by the district court / insolvency court in Hamburg on July 1, 2012;
PowerWind GmbH manufactured onshore wind energy systems of 500 kW, 850 kW, 900 kW and 2500 kW) and was a provider of services; the company was specialized on community-scale projects. Since its foundation in 2007, PowerWind had implemented numerous projects in eight countries.
Find more information on http://powerwind.co.in/
Featured Product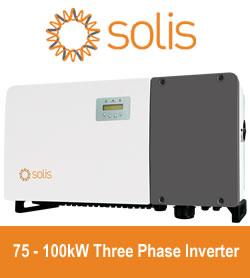 Solis75kW - 100kW series high-power string inverters are widely used in industrial and commercial rooftops. Solis's new three-phase string inverter is the first choice for industrial and commercial photovoltaics. 75-100kW three phase series string inverter have Maximum 28 strings input, support "Y" type connection in DC side. Maximum string input current 13A, support bifacial modules access.Supports anti-PID function to improve system efficiency.