The community looks forward to working hand-in-hand with BYD as they develop and perfect their e-bus and energy storage technology in Lancaster.
LANCASTER, Calif.--Today, BYD and the City of Lancaster joined together to announce the arrival of two BYD manufacturing facilities in Lancaster. BYD, a leading international firm specializing in rechargeable batteries, vehicle manufacturing and green energy technologies, will begin operating an electric bus manufacturing facility and an Iron-Phosphate energy module (large-scale battery) manufacturing facility in the coming months. These mark the first manufacturing facilities in the United States for BYD Motors Inc, a Los Angeles-based subsidiary of the Chinese firm BYD Company Ltd (1211.HKE). "We truly are making history," said Mayor R. Rex Parris. "The City of Lancaster is honored to play host to BYD, a first-rate firm known around the globe as a leader in battery and sustainable energy technologies. Our community looks forward to working hand-in-hand with BYD as they develop and perfect their e-bus and energy storage technology right here in Lancaster. The opening of not one, but two manufacturing facilities will provide local workers with hundreds of jobs as BYD expands its operations here in the United States, and also represents a significant investment into our local economy and in California."

China-based BYD, short for "Build Your Dreams," boasts more than 160,000 employees around the world, with operations in China, the US, Europe, Japan, South Korea, India, Taiwan, Hong Kong and other regions. BYD's US corporate headquarters is located in Los Angeles, while the Lancaster facilities mark the firm's first manufacturing facilities in North America. "Our relationship with the City of Lancaster started in 2009, when Los Angeles County Supervisor Michael D. Antonovich and the LAEDC President, Bill Allen, introduced us," said Stella Li, President of BYD Motors. "We have been extremely impressed with the resources of LA County and the leadership shown across many cities, including Los Angeles, Long Beach and Lancaster." In 2010, Supervisor Antonovich led a trade mission to China, inviting Mayor Parris and City representatives to join in an effort to attract firms to Lancaster. Mayor Parris and his team visited BYD's headquarters in Shenzhen, China to further develop the relationship. "We were pleased to initiate this vital partnership with BYD, the County and the City of Lancaster and look forward to its continued success with two new world-class manufacturing facilities that will create jobs and enhance the economic vitality here in the Antelope Valley and throughout the region," said Supervisor Antonovich. As a result of the trip to China, the BYD-City of Lancaster relationship bore its first fruit: the "Home of the Future." Upon returning to the US, Mayor Parris led an effort to partner with BYD and homebuilding giant KB Home to create this "Home of the Future," which utilized BYD solar panels, BYD LED lighting, energy-efficient technologies, and BYD residential energy storage to create an affordable green energy home. "This innovative use of cutting-edge technology, coupled with the ability of the BYD/KB team to think outside the box to create the most affordable production green energy home our country had ever seen, was truly inspiring," said Parris. "This cemented the concept in my mind that BYD must be part of Lancaster's future. Their developing technologies dovetail perfectly with our community's sustainable energy goals, while also providing stable green jobs for local residents."
In April, BYD was awarded a $12.1 million contract with Long Beach Transit Authority to produce 10 zero-emissions, all-electric buses. The company's state-of-the-art electric buses provide a range of over 155 miles on a single charge, among the highest in the electric bus industry. "BYD is thrilled to be a part of the new zero-emissions legacy beginning in Long Beach with their electrified public transportation. Mayor Foster and LBT CEO Larry Jackson are visionary leaders in that community," stated Stella Li. "Additionally, our Los Angeles Headquarters will continue to expand research and development jobs to support these manufacturing facilities as well as sales and HR support for all of North and South America – thanks to Mayor Villariagosa." BYD has purchased the former Rexhall Industries recreational vehicle manufacturing facility in Lancaster at 46147 BYD Boulevard (previously 7th Street West) to house its electric bus manufacturing operations, as a decrease in demand for RVs has led to excess capacity at the plant. Rexhall Industries will combine its manufacturing operations with its sales facility on 23rd Street West, while President and Chief Executive Officer of Rexhall Industries, William Rex, will stay on as General Manager for BYD Coach & Bus LLC. A number of current Rexhall employees will also stay on as the plant transitions to BYD ownership. "This truly is the best of both worlds," said Mayor Parris. "With this arrangement, BYD benefits from a ready-made, fully-permitted facility which perfectly suits its needs, and will also enjoy access to the expertise of highly trained personnel with extensive experience in the manufacturing industry. Simultaneously, Rexhall staff will enjoy stable, green-sector jobs, along with a significant number of local families who will benefit from the new jobs BYD's operations will create."
About BYD
BYD is ranked #1 at the top of Bloomberg's and BusinessWeek's 2009 Tech 100 List (http://www.businesswire.com/news/home/20100520006751/en/BYD-Tops-Bloomberg-Businessweek%E2%80%99s-12th-Annual-Tech ) and is the leading manufacturer of advanced, environmentally-friendly battery technologies like the BYD Iron Phosphate battery used in BYD electric vehicles and electric buses. BYD's solar panels and LED Lighting systems have CEC, TUV/CE and UL listings, and the company enjoys rapid growth in the consumer electronics space and electrified transportation sector manufacturing under its BYD brand. BYD is the fastest-growing Chinese automotive and green energy technology enterprise. The Company trades on the Hong Kong Exchange (HKE) under the ticker numbers (HK.0285 – BYD Electronics) and (HK.1211 – BYD Company Ltd.), as well as on the Shenzhen Stock Exchange under the ticker number (002594 - BYD Company Ltd.). For more information, visit www.byd.com, www.facebook.com/bydcompany or email pr@byd.com.
About the City of Lancaster
The City of Lancaster is a thriving community of more than 156,000 in northern Los Angeles County. Clean air, attainable housing, wide open spaces, and a close-knit community make Lancaster the ideal place for families. A low cost of doing business, endless potential for growth, and a strong commitment to business from local leaders has earned Lancaster the Eddy Award for "Most Business-Friendly City" in Los Angeles County from the Los Angeles County Economic Development Corporation. In addition, Lancaster boasts more than 350 days of sunshine per year, making it the ideal place to pioneer new solar energy technologies.
Featured Product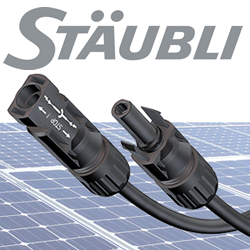 ​Stäubli Electrical Connectors are used on more than 300 GW, over 50% of the PV capacity worldwide. The MC4 family of UL and TUV listed products include connectors, in-line fuses, branch connectors, cable assembly and more.