Eco Expo Asia will take place once again this fall at AsiaWorld-Expo in Hong Kong from 28 – 31 October.
30 April 2013 – Recognised as Asia's leading green-tech exhibition, Eco Expo Asia will take place once again this fall at AsiaWorld-Expo in Hong Kong from 28 – 31 October. Developed with a strong commitment to the regional growth of green business, the annual show is organised by Messe Frankfurt (HK) Ltd and the Hong Kong Trade Development Council, with co-organisation by the Environment Bureau of the Government of Hong Kong Special Administrative Region.

Each year, the fair aims to highlight the latest breakthroughs in green products, services and technologies for use in a range of industries. It is also designed as a central meeting point for enterprises, governments and academic professionals to share, acquire and implement green solutions that offer economic and social benefits. This is made possible through the support and assistance of Hong Kong, Chinese mainland and South East Asian government departments as well as more than 30 local and international trade associations and government agencies.
The 2013 show will focus on the four major areas of Waste Management and Recycling, Green Building Services and Solutions, Energy Efficiency & Energy and Eco-friendly Products. Currently, exhibitors from Canada, Chinese mainland, Czech Republic, Hong Kong, South Korea and Thailand have signed up to capture the region's numerous green business opportunities.
The eighth edition will host a number of renowned international green-tech suppliers, including one of the industry's biggest brands, Bayer MaterialScience. As a global leader in the green building sector, Bayer MaterialScience is planning to introduce its EcoCommercial Building Programme to green building professionals at the fair. Commenting on the programme's track record, Dr Michael Voigt, Head of the EcoCommercial Building – Center of Excellence China noted: "The EcoCommercial Building Programme has already proven its success worldwide. The construction process itself involves the complete recycling of natural resources and the avoidance of waste, air, water and soil pollution."
Growing environmental issues and strong government investment highlights unique market opportunities
As countries across Asia continue to witness unprecedented economic growth, the region's respective nations keep facing major challenges to the environment. Industry professionals and government officials have started to see the impact of these challenges, and have begun forming initiatives that offer a greener future to companies and individuals. Governments across South East Asia for example have created policies and programmes that aim to save between USD 15 – 43 billion in power by 2020. While in the Chinese mainland, the government has pledged to invest USD 481.9 billion in various green projects under the 12th Five-Year period.
For Hong Kong, the two biggest environmental issues are waste management and energy consumption in buildings. While the region's government is making considerable efforts to reduce total disposable municipal waste to less than 1 million tonnes by 2014, the region is greatly in need of new technologies at the industrial, governmental and individual levels. Strong demand can also been found for innovative solutions that can provide green efficiency in buildings, as approximately 90% of Hong Kong's total electricity consumption is contributed by properties. For suppliers with innovative and novel solutions, market opportunities are growing year after year. And Eco Expo Asia continues to position itself as the regional platform for these suppliers to promote their latest solutions.
For more information, please email ecoexpo@hongkong.messefrankfurt.com, or exhibitions@hktdc.org, or visit www.ecoexpoasia.com.
Featured Product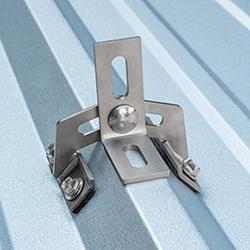 They have been changing the game for 10 years with their original Top Mount line for Asphalt Shingle roofs, and by now supplying one of the widest ranges of solar mounts in North America. From their patented products, to the custom production services they offer, QuickBOLT has been working with solar installers for nearly a decade to make solar installations easier than ever before.