Latest Addition to the JM PVC Portfolio Accessory Line Simulates the Aesthetics of Standing Seam Metal Roof Systems
DENVER--Global building products manufacturer and Berkshire Hathaway Company, Johns Manville (JM), today introduces JM PVC Profile™—the latest addition to JM's robust PVC portfolio accessory line.

JM PVC Profile is a decorative rib that simulates the aesthetics of standing seam metal roof systems and is installed utilizing the HAPCO PVC Wheel Kit, welding directly to the JM PVC membrane.
JM PVC membranes and accessories are an excellent choice for leading commercial roofing professionals. With more than 600 million square feet installed and more than 150 years of experience, JM offers industry expertise as well as a comprehensive portfolio of PVC single ply solutions for the most demanding circumstances. A complete line of insulations complements JM's PVC membrane, cover board and specialty products for a single source of supply.
JM PVC membrane features include:
*Plasticizer retention for long-term durability
*Polyester reinforcement for a wider array of applications
*Stringent manufacturing specifications to ensure the highest quality standards
*Lowest commercial life-cycle cost compared to other membrane types
*Superior long-term solar reflectance for cool roofs and qualification for LEED® credit
*Inherent chemical resistance to oils, air conditioning coolants, fuels and grease
To learn more about JM PVC Profile and review supporting materials such as installation details, data sheets, application instructions and specifications, please visit http://www.specjm.com/products/roofing/jmpvcprofile.asp.
About Johns Manville
Johns Manville, a Berkshire Hathaway company (NYSE: BRK.A, BRK.B), is a leading manufacturer and marketer of premium-quality products for building insulation, mechanical insulation, commercial roofing and roof insulation, as well as fibers and nonwovens for commercial, industrial and residential applications. JM serves markets that include aerospace, automotive and transportation, air handling, appliance, HVAC, pipe and equipment, filtration, waterproofing, building, flooring, interiors and wind energy. In business since 1858, the Denver-based company has annual sales of approximately $2.5 billion and holds leadership positions in all of the key markets that it serves. JM employs approximately 7,000 people and operates 45 manufacturing facilities in North America, Europe and China. Additional information can be found at www.jm.com.
Featured Product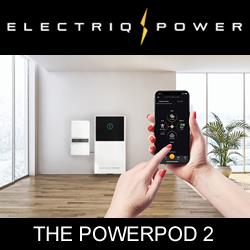 The Electriq PowerPod 2 is a fully-integrated home energy storage, management, and monitoring system powered by LFP batteries. The high-performance, cobalt-free product includes a hybrid solar/battery inverter controlled by intelligent software. The PowerPod 2 provides backup power and can self-consume or export excess power back to the grid.