"Hurricane Sandy and Commercially Tested Fuel Cell Backup Power Solutions"
VANCOUVER, CANADA– Ballard Power Systems (NASDAQ: BLDP)(TSX: BLD) announced today that it is sponsoring a live, complimentary webinar event entitled "Hurricane Sandy and Commercially Tested Fuel Cell Backup Power Solutions" on Wednesday, May 15, 2013 at 2:00 PM EDT. Interested participants may register for the webinar from the 'Events' section of Ballard's homepage, www.ballard.com.

The upcoming webinar will be hosted by Eric Denhoff, CEO of the Canadian Hydrogen and Fuel Cell Association and will feature presentations from two notable experts: Kyla Reid, Head of the Disaster Response Programme at GSMA; and Lennox McCartney, President of Precision Power and Air Bahamas. The presenters will provide insights into the benefits of alternative power technology in extreme situations, including a hands-on case study of fuel cell backup power system performance in the Caribbean during Hurricane Sandy.
Natural disasters are occurring at an accelerated pace around the globe – through the first 10-months of 2012 there were more than 30 incidents in the U.S. and more than 200 incidents worldwide, impacting over 80 million people and causing $45 billion in economic damage.
Then came Hurricane (SuperStorm) Sandy in October, 2012. Sandy resulted in over 200 deaths in 7 countries and caused over $75 billion in damage. On October 26th the storm, with winds of more than 100 mph, hit the Bahamas. Register for this webinar and listen to the details surrounding the role of backup power fuel cell systems in maintaining operations of the Bahamas Telecommunications Company through this harrowing event.
About Ballard Power Systems
Ballard Power Systems (TSX: BLD) (NASDAQ: BLDP) provides clean energy fuel cell products enabling optimized power systems for a range of applications. Products deliver incomparable performance, durability and versatility. To learn more about Ballard, please visit www.ballard.com.
Further Information: Guy McAree +1.604.412.7919, media@ballard.com or investors@ballard.com
Featured Product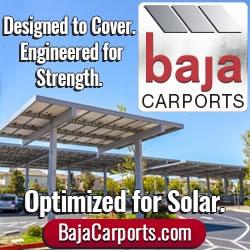 Baja Carports offers an extensive solar support system product line customized to customers' site specifications by in-house engineers, meeting their parking lot coverage, plus optimal PV production needs. Baja's Full Cantilever Tee is often paired with its Semi and Full Cantilever carports to meet live/loads up to 60psf and wind speeds to 160mph. All Baja products are pre-fabricated, bolted connections, pre-galvanized structural steel for fast on-site installation and project aesthetic requirements."