EnerDel ESS Boasts Three Times Longer Life, Lower Mass, and Higher Capacity providing Better Fuel Efficiency and Performance than Existing System
INDIANAPOLIS – (May 7, 2013) – EnerDel, Inc., a leader in lithium-ion energy storage systems, today announced the availability of its new PPA 300-689 Vigor+ Energy Storage System (ESS). As part of EnerDel's Aftermarket and Service business strategy, the ESS is designed as a retrofit to replace the nickel metal hydride (NiMH) based energy storage system currently used in Allison hybrid buses. The system is also ideal for those interested in designing in the performance benefits of lithium-ion technology from the onset.

EnerDel's new air-cooled, lithium-ion energy storage system offers the same voltage, CAN interface and mounting points, making it an easy drop-in replacement for the original NiMH battery. In addition, the EnerDel system features 19 kWh rated energy (16.9 kWh usable) – over three times the rated (>5x usable) energy of the original battery. The elevated energy rating provides longer life and more available power. These attributes, coupled with lower mass, delivers better fuel efficiency and longer range.
"This new solution offers an easy retrofit to the current system that is used in more than 6,000 hybrid buses across North America," stated EnerDel CEO Dave Roberts. "With many of those batteries past their warranty and in need of replacement, the PPA 300-689 Vigor+ Energy Storage System gives metropolitan transit authorities a choice in how to keep their clean-emission fleets operational at a fraction of the cost of total replacement."
EnerDel's new ESS is in the midst of field testing, having accomplished several thousand miles of on-the-road, in-service operation with metropolitan transit authorities.
"With EnerDel's strong history of reliable, safe ESS solutions and the extremely positive results from our field testing to date, we're confident that our lithium-ion energy storage system will offer a superior retrofit solution," stated Tomasz Poznar, EnerDel's Vice President of Transportation and Aftermarket Sales. "In fact, we've done field testing in one of the hilliest and most demanding terrains in North America, and the results have surpassed even our own high expectations. Our engineers' experience, creativity, and robust design choices have resulted in zero issues or failures."
EnerDel's approach to cell, module, and system design and production has created some of the safest lithium-ion solutions available on the market. The company recently published a safety white paper that outlines its approach, which can be found on its web site at the following link: http://www.enerdel.com/about-us/white-papers/.
For more information on EnerDel's PPA 300-689 Vigor+ Energy Storage System, email Info@EnerDel.com or call (317) 703-1800.
About EnerDel
EnerDel, Inc. is a privately-held company headquartered in Indianapolis. It manufactures advanced, lithium-ion batteries and energy storage systems for electric grid, transportation and industrial applications. The company's prismatic cell design and modular stacking architecture combine to provide customers with production-ready solutions that address their power and energy storage needs. EnerDel offers its customers the opportunity to receive a guaranteed residual value (GRV) on new energy storage or battery systems of up to 25 percent, which can be used toward the purchase of new or replacement systems. For additional information, visit http://www.EnerDel.com.
Featured Product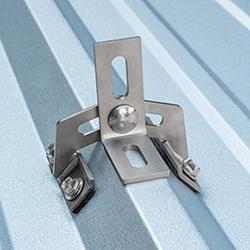 Explore new lines of income for your solar installation business with QuickBOLT's Stone Coated Steel roof mounts designed in partnership with metal roof manufacturers themselves. These SCS roof mounts work on all metal tile profiles and will help you bring in money you're missing out on. By not driving into the roofing material, QuickBOLT's Stone Coated Steel roof hooks maintain the integrity of the roof. Install with ease and confidence knowing your roof is protected against the harsh elements that these hooks are designed for.