The free webinar from the Renewable Energy Markets Association (REMA) will present an overview of energy markets, pricing dynamics, and deal structures.
Increasingly, large corporations and institutions are seeking ways to purchase power directly from off-site renewable energy projects in order to secure stable long-term electricity rates, provide budget certainty, and generate substantial brand value.

This May 23rd webinar, hosted by the Renewable Energy Markets Association (REMA) and OneEnergy Renewables, will provide a foundation for understanding direct purchase options by explaining power market mechanics, rules, and pricing. It also explores traditional renewable power sales approaches, including negotiated deals and PURPA sales contracts. OneEnergy will conclude the presentation by discussing innovative ways for corporations and institutions to structure direct energy purchases from off-site renewable projects.
The session will benefit sustainability managers, energy managers, and renewable energy industry participants.
Register here >> https://www2.gotomeeting.com/register/968724634
Speakers include:
--Tim Belden, Principal, Energy GPS
--Ken Kaufmann, Partner, Lovinger Kaufmann, LLP
--Bill Eddie, President, OneEnergy Renewables
Who should attend?
--Energy project developers
--Utility providers
--Green power marketers
--Permitting officials
--Financiers
--Energy aggregators and traders
--Renewable energy component manufacturers
Featured Product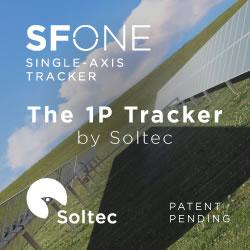 Soltec manufactures and supplies solar trackers designed and proven for extreme climate conditions, which is an ideal solution for any region's environment. Soltec's trackers are self-powered, requiring no additional PV module or grid-powered connection. Bifacial modules collect energy on both the front and rear sides, capturing reflected irradiance from the ground surface under and around the tracker and from other modules. Depending on site conditions, bifacial yield-gain can reach +30 percent.