In partnership with Solar Provider Group, KB RACKING has installed the first solar project of a 10 MW portfolio in California. EkonoRack was the first flat roof solar mounting system to be installed under LA's groundbreaking FIT program.
Los Angeles, California May 07, 2013

Los Angeles's 150 MW CLEAN LA Feed-in-Tariff (FIT) program was adopted earlier this year, becoming the largest FIT solar program in the United States. Solar Provider Group, a multinational EPC company, has the most projects in development in the LA FIT program and has selected KB Racking as its solar mounting solution for a total of 10 MW over the course of the program.
In partnership with KB Installations, 84 kW of KB Racking's flat roof system EkonoRack have been installed on one of LA's urban rooftops. The project is fully installed mechanically and is expected to be interconnected and producing clean power in the next 60 days. The project is featured in the recently released "Clean LA Solar Program", a video created by the Los Angeles Business Counsel that details the groundbreaking LA FIT program. President of Solar Provider Group, Christian Wentzel comments, "With a large number of projects in the pipeline under the LA FIT program we wanted to secure a mounting company we could rely on. KB Racking's products are easy to install and we can trust them to get the job finished right and on time."
The LA FIT program is setting the bar for solar energy across the nation, aiming to create 4,500 green jobs, generating a half-billion dollars in economic activity and powering roughly 34,000 LA homes. COO and Vice President of KB Racking, Peter Aulich, comments, "We recognize the leadership that Los Angeles is taking to further solar development within the United States and we are looking forward to playing an active role in California, our prime target expansion market. Partnering with Solar Provider Group on this project is just the first step."
This project is the first Californian installation of KB Racking's economical flat roof mounting system, EkonoRack. Since its release last year, EkonoRack has been praised for its simplicity and installed on large commercial rooftops in the Eastern US and Canada. KB Installations' construction manager, Alan Morrissey states that the system is one of the most straightforward on the market, "EkonoRack only has three major components, my crew is therefore able to install it quickly and with very little direction."
For more information on the Clean LA FIT program, visit http://www.ladwp.com/fit.
ABOUT KB RACKING
KB Racking specializes in the engineering and manufacturing of best-in-class mounting systems for solar installations. We offer flat roof, pitched roof and ground mount racking solutions, all designed for quick installation and lasting results. For more information visit kbracking.com.
ABOUT SOLAR PROVIDER GROUP
Solar Provider Group is a multi-national and family owned EPC company with a decade of global experience in the engineering, execution, construction, financing and placement of solar projects. For more information visit solarprovidergroup.com.
Featured Product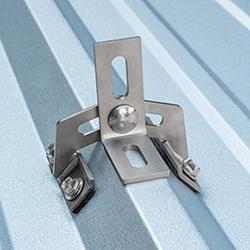 They have been changing the game for 10 years with their original Top Mount line for Asphalt Shingle roofs, and by now supplying one of the widest ranges of solar mounts in North America. From their patented products, to the custom production services they offer, QuickBOLT has been working with solar installers for nearly a decade to make solar installations easier than ever before.