A ribbon-cutting ceremony for the projects will be held this summer in the Town of Sterling.
SAN RAMON, Calif., May 13, 2013 -- Canadian Solar Inc., ("the Company", "Canadian Solar") (NASDAQ: CSIQ), one of the world's largest solar power companies, Duke Energy Renewables, Integrys Energy Services and Community Energy Solar today announced the completion of two 1-megawatt (MW) AC solar power projects in Sterling, Massachusetts.

The community-oriented Sterling projects are co-owned by Canadian Solar and INDU Solar Holdings - a joint venture between subsidiaries of Duke Energy and of Integrys Energy Services. The ground-mounted installations were developed by Community Energy Solar and constructed by groSolar using 9,968 CS6P 240W Canadian Solar modules. They will supply enough energy to power about 400 homes annually.
Sterling Municipal Light Department (SMLD) is purchasing the power generated from the projects under 20-year agreements for use within the Town of Sterling.
"These projects stand to have a significant impact on the Town of Sterling, highlighting how a solar installation can support a community by providing benefits on multiple levels, in addition to generating long-term clean energy," said Dr. Shawn Qu , Chairman and CEO of Canadian Solar."We are pleased to see this initial venture with INDU Solar come to fruition, and look forward to future collaboration with INDU and our other project partners."
"On behalf of INDU, we are pleased to announce these project completions, our first in New England," said Duke Energy Renewables President Greg Wolf . "All of the stakeholders involved contributed a wealth of project development, construction, and management expertise, and we are excited that Sterling will benefit from this energy source for years to come."
Community Energy Solar worked closely with the Town of Sterling and landowner Davis Dairy Farmland to design projects that are well suited for the agricultural and residential setting and meet the town's long-term power needs. Canadian Solar, Duke Energy Renewables, Integrys Energy Services and Community Energy Solar are also facilitating a solar energy educational initiative associated with the projects.
A ribbon-cutting ceremony for the projects will be held this summer in the Town of Sterling. Canadian Solar and INDU Solar have already begun construction on a third project developed by Community Energy Solar in Massachusetts, a 3-MW (AC) installation in the southeastern part of the State.
About Canadian Solar
Founded in 2001 in Canada, Canadian Solar Inc. (NASDAQ: CSIQ) is one of the world's largest and foremost solar power companies. As a leading vertically integrated provider of solar modules, specialized solar products and solar power plants with operations in North America, South America, Europe, Africa, the Middle East, Australia and Asia, Canadian Solar has delivered more than 4GW of premium quality solar modules to customers in over 50 countries. Canadian Solar is committed to improve the environment and dedicated to provide advanced solar energy products, solutions and services to enable sustainable development around the world. For more information, please visit www.canadiansolar.com
About INDU Solar Holdings
INDU Solar Holdings is a strategic partnership formed by Integrys Energy Services, a wholly owned subsidiary of Integrys Energy Group, Inc., and Duke Energy Renewables, a wholly owned subsidiary of Duke Energy Corp., to develop, construct, finance, own and operate solar photovoltaic projects for commercial, school, government and utility customers throughout the United States.
About Duke Energy Renewables
Duke Energy Renewables, part of Duke Energy's Commercial Businesses, is a leader in developing innovative wind and solar energy generation projects for customers throughout the United States. The company's growing portfolio of commercial renewable assets includes 15 wind farms and 15 solar farms in operation in 10 states, totaling more than 1,700 megawatts in electric-generating capacity. Learn more at www.duke-energy.com/renewables. Headquartered in Charlotte, N.C., Duke Energy is a Fortune 250 company traded on the New York Stock Exchange under the symbol DUK.
About Integrys Energy Services
Integrys Energy Services, Inc. provides competitive energy supply solutions, structured products, distributed energy assets, and strategies that allow retail residential, commercial, and industrial customers to manage their energy needs. Areas of power generation expertise include cogeneration, distributed generation, renewables such as solar and landfill gas. Integrys Energy Services is a subsidiary of Integrys Energy Group (NYSE: TEG), a Fortune® 1,000 company with a 150-year heritage. More information about Integrys Energy Services is available online at www.integrysenergy.com
About Community Energy
Community Energy ("CE") has led renewable energy development in the Eastern U.S. since its founding in 1999. CE led wind development in the Northeast at the start of the decade, and in 2009 expanded into solar development in states with expanding solar targets, now including New York, Indiana, North Carolina and Puerto Rico. Projects built by CE include the 6 MW Keystone Solar Project in Lancaster County, PA, the 7.8 MW Vineland Solar Project in Vineland, NJ, the 24 MW Bear Creek Wind Farm in the Poconos, PA, and the 7.5 MW Jersey Atlantic Wind Farm in Atlantic City, NJ. Visit www.communityenergysolar.com
About groSolar
groSolar is an industry-leading large commercial- and utility-scale solar engineering, procurement, and construction firm serving the 1 to 30 MW market. For 15 years, groSolar has been dedicated to high quality, on time, and on budget project performance. With megawatt+ projects and over 2,000 installations nationwide, groSolar's experience spans a broad spectrum of applications. These include design and build applications atop brownfields/landfills, commercial, educational, municipal facilities, and manufacturing plants.
Featured Product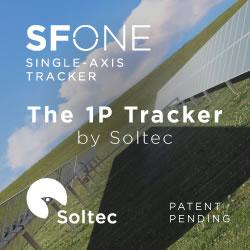 SFOne is the 1P single-axis tracker by Soltec. This tracker combines the mechanical simplicity with the extraordinary expertise of Soltec for more than 18 years. Specially designed for larger 72 an 78 cell modules, this tracker is self-powered thanks to its dedicated module, which results into a lower cost-operational power supply. The SFOne has a 5% less piles than standard competitor, what reduces a 75% the labor time.