Research aimed at creating reference designs to reduce costs, add capabilities
AUSTIN, Texas – May 13, 2013 – Ideal Power Converters, Inc. ("IPC" or "the Company"), a developer of disruptive electronic power converter solutions, and the National Renewable Energy Laboratory (NREL) announced today that they signed a Cooperative Research and Development Agreement (CRADA) to use IPC's patented Energy Packet SwitchingTM topology to develop and test next generation electric vehicle (EV) charging infrastructure solutions. This effort is aimed at creating new system approaches that may reduce both construction and operating expenses related to charging infrastructure and create value-added capabilities in order to accelerate deployment of EV fast charging infrastructure and plug-in EVs.

The goal of the partnership is to create standard reference designs using IPC's patented topology in the 3-Port Hybrid Converter that can readily be adopted by commercial and municipal EV fleets, military installations, and public infrastructure. These reference designs seek to improve the cost, efficiency and reliability of power conversions between EVs, solar panels, storage batteries and the electric grid, as well as provide grid storage and emergency backup power capabilities.
"NREL and IPC previously demonstrated vehicle-to-grid (V2G) capabilities with the IPC Battery Converter, and this CRADA expands our successful cooperation," stated Tony Markel, Manager of the Vehicle Testing and Integration Facility at NREL. "NREL will integrate IPC's 3-Port Hybrid Converter and test solar energy and battery storage with high-power electric vehicle charging applications. We expect this system to improve operating cost and siting flexibility for EV fast charging."
"Ideal Power Converters is pleased to expand our cooperation with NREL to create EV charging infrastructure reference designs," said Paul Bundschuh, Chief Executive Officer of IPC. "Additionally, IPC plans to add V2G and vehicle-to-building capabilities to these reference designs, which may allow EVs to provide grid storage and emergency backup power capabilities to commercial, municipal and military customers. NREL provides strong technical skills and a unique coordinating position between EV manufacturers, EV charging infrastructure firms, and electric utilities that could benefit from these new approaches using IPC's Hybrid Converters."
Until recently, hybrid power conversion systems have required multiple hardware units and power conversion steps, which add to product and installation costs, efficiency losses, and reliability issues. IPC has developed and patented a completely new Energy Packet Switching™ topology. The Company has already released power converter products for both solar and battery storage markets, and its 3-Port Hybrid Converter is the Company's first product to exploit the topology's capability as a single-stage multi-port hybrid power converter.
"IPC believes this product will eliminate the power conversion bottlenecks when integrating diverse power sources, and enable low-cost micro-grid solutions," added Bundschuh.
The 3-Port Hybrid Converter includes three bi-directional ports, one AC grid port and two independent DC ports – either of which can be used for photovoltaic, battery storage, or EVs. The system is designed to allow power to flow in any mix among any ports with 96.5 percent estimated CEC efficiency. IPC's 30kW 3-Port Hybrid Converter weighs about 125lbs and provides power density (Watt/lbs) which the Company believes is ten times higher than other hybrid power converter solutions and is expected to reduce manufacturing, installation and maintenance costs.
About Ideal Power Converters
Ideal Power Converters, Inc. has invented, patented and commercialized a revolutionary new technology that significantly improves the weight, size, cost, efficiency and reliability of electronic power converters - the conduits to modern energy. Based on patented indirect Energy Packet SwitchingTM topology that uses a standard lightweight hardware design and embedded application-specific software, IPC's products are designed to serve the multi-billion dollar power conversion markets of renewable energy, electrical energy efficiency, smart grids and electric vehicles. IPC products include solar inverters, bi-directional battery and electric vehicle chargers, all built on the same lightweight Universal Power Converter Platform™. IPC has received funding from the State of Texas Emerging Technology Fund, and has been awarded $2.5M from the U.S. Department of Energy Advanced Research Projects Agency – Energy (ARPA-E). IPC has won multiple industry awards, including the 2013 TechConnect National Innovation Award. For more information, visit: http://www.IdealPowerConverters.com.
Featured Product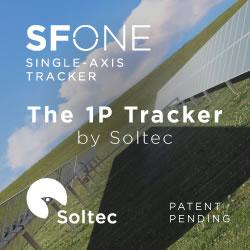 SFOne is the 1P single-axis tracker by Soltec. This tracker combines the mechanical simplicity with the extraordinary expertise of Soltec for more than 18 years. Specially designed for larger 72 an 78 cell modules, this tracker is self-powered thanks to its dedicated module, which results into a lower cost-operational power supply. The SFOne has a 5% less piles than standard competitor, what reduces a 75% the labor time.