R&D facility to leverage US Navy's Crane Naval Center in the research and development of independent solar charging stations for electric vehicles.
renewz sustainable solutions inc. today announced an agreement with the Battery Innovation Center to construct a solar powered electric vehicle carport at the new BIC research facility in Odon, Indiana, adjacent to the US Navy's largest battery testing and research center. The solar charging carport system was developed by Renewz® and combines American-made electrical equipment from Eaton, with Renewz' exclusive silver-aluminum ballasted carport system.

"We are pleased to have partnered with Renewz® for the deployment of this first solar power canopy to be built in the coming months on our new facility grounds," said Charles LaSota, President of the Battery Innovation Center. "Their deployment capabilities, combined with an innovative hardware and software package, put them far ahead of any other solar carport provider. Solar power is an important part of what we hope to research at BIC, when combined with electric vehicle charging and smart battery storage technologies, with a view towards the smart grid of the future."
The isola™ 5 kilowatt (kW) solar carport project will be managed and developed by renewz® and features patent-pending Integrated Power Solutions and EV chargers from Eaton. The modular structure will also include SILFAB Americas solar panels, high-tech LED lighting and highly visible side banners. It is designed to be 100-percent waterproof and fully wind, snow and seismic code compliant.
"Renewz® is committed to helping military and commercial locations across America deliver on the reduction on foreign energy supply dependence," said Sass M. Peress, CEO of renewz. "Built adjacent to the US Navy's largest battery development facility, this modular two-car solar canopy will be constructed in just a few days without need for any foundation trenching thanks to its ballasted design. It will clearly demonstrate how armed forces bases around the world can quickly and easily deploy renewable, clean energy supplies for their electrical vehicle charging infrastructure, while powering their electric fleets towards true 'zero-emission' targets."
This innovative solar powered EV charging station is intended to generate enough clean, renewable energy to recharge any electric vehicle located at the BIC facility for over 25 years. It will reduce Indiana's greenhouse gas emissions by more than 115 tons and permit more than 300,000 miles of clean driving.
About renewz sustainable solutions inc.
renewz sustainable solutions, Inc. develops and delivers unique solar carport projects based on careful matching of design and brand requirements of its clients. Through the delivery of recognizable, easy-to-implement, and effective solutions, we help clients discover ways to increase their environmental stewardship...from road to roof®. For more information, visit http://www.renewz.com, facebook.com/renewz or view our videos at youtube.com/renewzsolutions
About Battery Innovation Center
The Battery innovation Center (BIC) in Southwest Central Indiana is a unique "not-for-profit" organization that pulls together world class talent from industry, academia, and government laboratories to provide for the rapid commercialization of new and emerging energy storage system technologies through collaborative research and development. It's "state-of-the-art" new $15.6M laboratory at Crane@WestGate Technology Park near Naval Support Activity Crane provides unique prototype manufacturing capability for Li Ion batteries, battery characterization and performance test and evaluation capabilities, as well as large scale energy storage devices, charging/discharge systems, and green energy sources for Micro Grid and grid management research and validation. Designated as a U.S. Department of Commerce, Economic Development Agency (EDA) Proof of Concept Center for Energy Storage technologies, BIC has an active cooperative research and development agreement with NSWC Crane for conduct of unique power and energy research and development opportunities. For more information, visit http://www.BICindiana.com
Featured Product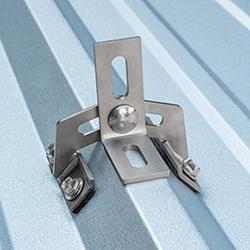 They have been changing the game for 10 years with their original Top Mount line for Asphalt Shingle roofs, and by now supplying one of the widest ranges of solar mounts in North America. From their patented products, to the custom production services they offer, QuickBOLT has been working with solar installers for nearly a decade to make solar installations easier than ever before.